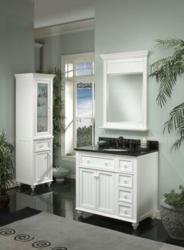 A high contrast design isn't just for a cutting edge aesthetic – it can work well for a more traditional design as well.
(PRWEB) January 15, 2013
HomeThangs.com – the Home Improvement Super Store has made their goal to deliver the right product to the consumer. With that in mind, shopping and home design tips, as well as special product selections are being introduced.
A high contrast design isn't just for a cutting edge aesthetic – it can work well for a more traditional design as well. HomeThangs.com introduced a few tips on how to create a timeless style with black and white bathroom vanities, especially in a more contemporary home, to give conventional styles a contemporary edge and keep the bathroom both cozy and up to date.
1. Mostly White
This is probably the most common black and white combination in terms of bathroom vanities, and one seen quite often in a turn of the century style home. Simple, beadboarded white bathroom vanities like, for example, Cottage Retreat Vanity from Sagehill Designs, mesh well with country cottage, seaside simplicity. But adding a black vanity top adds sophistication, and that little bit of contrast keeps the vanity from blending in to a matching wall treatment. The addition of a little bit of black makes the vanity pop, without losing the lightening, brightening effect of the white finish that's so desirable in a smaller, older bathroom. Plus, the black tile floors would be a non-traditional choice as well that really makes the vanity pop.
White vanities are great for a smaller, contemporary space, as it has all the airs of tradition without the busyness of a bare wood grain. A simple white face helps reflect light and can make a room seem larger, while the black vanity top adds back a little of the antique sophistication and helps dramatically set off the vanity itself.
2. Mostly Black
Bathroom vanities that are mostly black have a similar but opposite effect. Obviously, a black bathroom vanity won't help a room look larger the way a white one can. A traditional design painted black – like the gorgeous Lutezia Modernique Vanity from Porcher – is the result is striking and contemporary while still paying homage to a traditional design. Paired with a pedestal-style sink basin, it offers a totally traditional piece that's nothing if not contemporary.
The same trick works for larger bathroom vanities, too. For example, the 06-0018 Black Vanity from MBM is utterly elegant, dressed up by the simple black finish but simplified from a more traditional cherry or mahogany. This makes the best of both worlds, offering a sophisticated finish that works equally well in a contemporary bathroom or a more elaborate setting. But it's the pure, brilliant white counter top that really makes this vanity, catching the eye and giving a single, clean counterpoint to the bathroom's decor.
3. 50/50
Traditional black and white bathroom vanities usually only use contrast between the vanity and top, leaving the real play of shape and color to more modern designs. Still, those who love the style but want to pull it off with a traditional design, something like the Aubrey Vanity from Cole+Co fits the bill. This vanity chest is based on an ultra-traditional bombe chest design, with all the gorgeous, detailed woodwork expected from an antique replica, but the bold black and white stripes are nothing if not modern, with a glamorous style which is not likely to be found elsewhere – either from more traditional designs or even more modern ones.
4. Weathered Finish
When it comes to modern high contrast design, a smooth, unblemished, maybe even glossy white or black finish would be the best choice. But traditional design leaves a little more wiggle room, with beautiful weathered finish pieces like the Torino Vanity by RonBow for example. Gently weathered to have little peek-throughs on the edges of the woodwork, this vanity has a slightly more casual, less black-tie finish to it that's great for an older or more casual design. The white vanity top (in this case a white marble with grey veining) helps keep the slightly rugged vanity looking clean and polished, giving the appearance of age without making the vanity look old or overused.
No matter what the personal style, adding contrast to the color scheme is a great way to make the bathroom more interesting. Black and white bathroom vanities are the easiest way to explore this style, and have the added advantage of producing a clean, polished, sophisticated style.
HomeThangs.com is not only a home improvement superstore, it also provides expert design tips and a comprehensive shopping guide, taking the ideas from professional interior designers, and offering tips to the consumers on how to pick the products to best suit their needs.