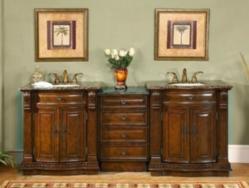 A classic traditional bathroom vanity should have some detailing on the wood work, but not a lot. Finished wood is always a safe bet because it never goes out of style.
(PRWEB) July 23, 2012
HomeThangs.com – the Home Improvement Super Store has made their goal to deliver the right product to the consumer, with that in mind, shopping and home design tips, as well as special product selections are being introduced.
When it comes to choosing an overarching decor for the next bathroom remodel, it is important to strike a fine balance between designs that are currently trendy and pieces that will continue to look good as styles change. If the lifespan of a bathroom is expected to be longer than the typical design cycle, while taking some inspiration from current fads, it's often wiser to opt for something a little more time-tested.
Traditional bathroom vanities are a great place to start. The combination of some small, vintage-inspired detailing and sleek, simple, contemporary lines gives a hint of vintage charm and value without an old fashioned look, and the simplicity of modern design without any of the coldness. Finished wood is always a safe bet because it never goes out of style.
When shopping for a traditional bathroom vanity, HomeThangs recommends a few things to keep in mind.
1. A classic traditional bathroom vanity should have some detailing on the wood work, but not a lot. Intricate, hand-carved and immaculate details have their places in vintage or period style bathrooms, but without the right matching, lavish decor, they can seem ostentatious or out of place. For example: Wide Single Vanity W5248 by Legion Furniture has unique feet and eye-catching but not elaborate carvings on the upper edge or sides. Just that little bit of finishing work will give the vanity a polished, sophisticated air, while the rest of the simple, contemporary lines keep it casual enough.
2. Antique Cherry Vanity WM6554-55 by Legion is about as heavy as one should go on the wood work. This errs on the side of being a vintage rather than a traditional bathroom vanity, but mostly because of the curved front doors and period hardware. The design itself is elegant in its simplicity, with plain, repeating, column-style vertical lines, a subtle molding on the bottom edge, and tall but dainty wood feet. A scallop shell or floral carvings added, and this setup becomes fresh and clean, faces of the doors and drawers make this piece much more timeless and better suited to a traditional bathroom style.
3. Subtle changes make all the difference when it comes to traditional bathroom vanities. For example, HYP-0722-T-UIC-60 Double Vanity by Silkroad Exclusive is rather similar to the one from Legion in size, design, and coloration. However, the doors and drawers aren't bowed, and the lines on the columns that edge the vanity doors are much thinner and more subtle. It's also about five inches wider, giving the vanity doors a more contemporary square shape rather than Legion's old-world cylindrical halves. Though they're made of the same wood, with nearly the same finish and very similar designs, Silkroad's vanity is strangely much more casual.
4. Squares and rectangles is something to look for, but a traditional bathroom vanity should not look too boxy. Far from it. For example, Medium Mahogany Vanity LTP-0176-72 by Silkroad Exclusive has some classical curves to it. Paired with the slightly rounded feet, and this sensual traditional vanity is anything but square. However, the bare-faced drawers and the simple, square inlay on the cabinet doors tones the whole vanity down a notch, keeping it from becoming too elaborate and preserving that slightly casual look that's the trademark of traditional vanities. It's the simple, straight lines that make a vanity blend in, because they allow the eye to skate right over them.
5. Picking a relatively simple bathroom vanity with the right hardware can go a long way toward creating the timeless, traditional style. For example, Traditional Double Vanity HYP-0726-TL-UIC-72 by Silkroad is relatively contemporary, with all simple lines and bare-bones wainscoting style door and drawer panels. The dark chocolaty finish is even rather modern. But the antique brass vintage style drawer pulls do the same aesthetic duty as the intricate wood carvings on other vanities: they give just that extra little sense of old world style to an otherwise simple, sleekly designed vanity.
6. No matter how big or small, how ornate or how plain, a traditional bathroom vanity has to be wood. Natural wood grain immediately adds a huge degree of sophistication that plywood or MDF vanities simply don't have. The type of wood and the stain are up for grabs depending on the taste. For example, Dark Walnut Vanity HYP-0206-BB-UIC-84 by Silkroad is very traditional. Traditional vanities come in a whole spectrum of wood types and stains.
Ultimately, choosing the right traditional vanity to create a truly timeless bathroom is a matter of balancing elements. A good rule of thumb to get a sense of whether or not a vanity fits the bill is to look for otherwise contemporary vanities that have one or two outstanding, eye-catching vintage elements. Even that little bit will provide just enough old world charm to give the vanity staying power, while the contemporary elements will keep it casual enough for use in an average home.
HomeThangs.com is not only a home improvement superstore, it also provides expert design tips and a comprehensive shopping guide, taking the ideas from professional interior designers, and offering tips to the consumers on how to pick the products to best suit their needs.