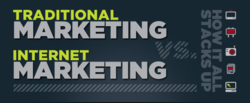 You can almost be certain that if a company is not online, they are losing business to competitors who are
(PRWEB) May 18, 2011
A monumental shift has occurred in the world of marketing. Companies in the past decade or so have just begun to understand a few of the core benefits of online advertising and search engine optimization services. With this new opportunity in marketing strategy, business owners are often found confused about their marketing options. Leadgenix has produced a new infographic to explain just a few of the benefits of the online marketing realm.
"I think the graphic does a great job of showing how vital online advertising has become," Brock Weaver, director of search engine optimization said, "People love sharing information and an infographic is a great way to make that data interesting."
With more than 2 billion internet users from across the world, the opportunity for business growth is staggering. Those users are not spending mere minutes online, but studies show that Americans are spending more than 2 hours every day on the web. With this huge amount of exposure, you can almost be certain that if a company is not online, they are losing business to competitors who are.
"As time goes on, online marketing is going to get more and more competitive, every company will have a website and will do everything they can to get traffic to that site," Sales team lead, Dan Posner stated "The sooner that companies get to the top of Google's list, the better off they will be in the long run."
To view the Leadgenix Infographic follow this link: Traditional Marketing vs. Internet Marketing
For more information about this article, please contact Leadgenix at 1.888.579.6803.
About Leadgenix:
Leadgenix has been a proven leader in providing small and midsize businesses with superb internet marketing solutions since 2007. The company ensures the services it provides create meaningful return on investment for its clients. Leadgenix is unique in its ability to provide website design, web development, search engine optimization services (SEO), pay per click campaign management (PPC), social media solutions, and reputation management services under one roof. With a focus on providing quality work for its customers, Leadgenix is fully accredited with the Better Business Bureau. More information can be found at http://www.leadgenix.com.
###