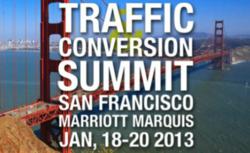 Austin, TX (PRWEB) January 24, 2013
The most recent Digital Marketer blog post shared the closing video segment from the 2013 Traffic and Conversion in San Francisco, California last weekend, January 18-20. Published by Luis Ramirez, Digital Marketer's social media specialist, the video highlights the crowds, speeches, and interviews from the event.
The post wraps up the weekend with a tribute to the attendees, organizers, and everyone involved with the entire three day conference. The fourth annual event of its kind, the 2013 Traffic and Conversion Summit was the center of the industry, and was named one of Forbes.com's Must-Attend Conference for Entrepreneurs in 2013.
The Summit brought together more than 2,000 marketers, entrepreneurs, and online business owners in an informative and relationship-building atmosphere for three days straight. Guest speeches from William Shatner, Guy Kawasaki, Tim Young and Ezra Firestone highlighted the digital marketing event.
The 2013 Traffic and Conversion Summit was the biggest live event hosted by Digital Marketer, and founder Ryan Deiss was thrilled to have organized and presented at such a successful and beneficial event.
Attendees shared their opinions and documented their experiences while at the Summit using social media, under the Twitter hashtag #TCS2013 and posted on the Digital Marketer Facebook page.
Production of the videos was led by Digital Marketer's social media team including Luis Ramirez and Kamie Dorris, and released throughout the weekend as well as the days following the event. Videos kept those who couldn't make the conference informed on the happenings and highlights from the three days of marketing content.
Digital Marketer releases informational and educational materials to help businesses and entrepreneurs gain insight and information on the trends, data, and strategies that can take them to the top of their industry. Through their RAW Training courses, strategic plans, blogs, newsletters, site reviews, and Special Reports, Digital Marketer supercharges every single marketing campaign it touches. For more information, visit DigitalMarketer.com.