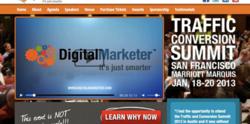 Digital content creation is one area that is helping to bring in additional revenue for companies that know how to market digital goods online.
San Francisco, California (PRWEB) December 19, 2012
The Traffic and Conversion Summit 2013 that is scheduled to take place January 18th through 20th in San Francisco, California is created by marketers for marketers. This new event has caused the Marketer's Black Book team to create a bonus offer of $4294 in giveaways for entrepreneurs, business owners and marketers that sign up for this event through the MBB website. More information about the bonus offer is available here http://marketersblackbook.com/reviews/traffic-and-conversion-summit-bonuses.
Marketing online has changed in recent years due to new restrictions by search engines. More qualifications are now required to achieve a high ranking position in search results compared to only 3 years ago. Those that market products and services online could benefit from accessing the new bonus offer that has been created and announced.
One of the bonuses that are included with this special offer is a traffic building blueprint. The creator of this blueprint, who is also a MarketersBlackBook.com co-owner, earned over $15 million in sales revenue using the very techniques that are now laid out in this new blueprint. This customized method for boosting website traffic is not found elsewhere packaged with other offers online.
A second bonus that has been put together by the MBB experts is two no cost tickets to an upcoming in-person seminar. These three-day seminars are intensive learning sessions that are designed to put plans into action and not present untested strategies. These no cost seminar tickets have a value of $1500 and are reserved for those that attend the Traffic and Conversion Summit through the MarketersBlackBook.com website.
Digital content creation is one area that is helping to bring in additional revenue for companies that know how to market digital goods online. An autopilot book creation system has been developed and included as an additional bonus in the $4294 total package offer. This helpful course teaches how to have books written and distributed in as little as two days online and offline.
Apart from the new bonuses, a new YouTube channel is now launched online at http://www.youtube.com/marketersblackbook to help those that do not attend the upcoming summit or 2013 seminars to learn fast track methods for growing a business online.
About Marketer's Black Book
Marketer's Black Book launched in 2010 and has witnessed growth over the past 24 months online and offline. This marketing resource online was developed to provide accessible information to entrepreneurs, business owners and website owners that are growing products and services online. The strategies, tips and information that is offered is based on proven methods that these experts use each day. The Marketer's Black Book owners are speakers at top business and technology conferences around the United States and frequently hold offline seminars for marketing training.