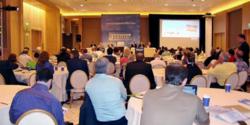 Besides the fact that there's instant appeal in short domain names based on rarity, they convey massive authority and are easier to type for mobile users
(New York, NY) (PRWEB) May 20, 2013
SEARCHEN NETWORKS®, an Internet advertising and marketing company has announced it will auction a three (3) character web address, namely Jax.net, in a No-reserve live auction at T.R.A.F.F.I.C. Las Vegas being held at the Bellagio in Las Vegas from May 29 - June 1.
"Demand is very strong for quality short domain names which are easy to remember," said John Colascione, author of "Mastering Your Website" and Chief Executive Officer of SEARCHEN NETWORKS®. "Besides the fact that there's instant appeal in short domain names based on rarity, they convey massive authority and are easier to type for mobile users."
T.R.A.F.F.I.C. is known throughout the world as the must-attended domain conference for serious and successful domain name investors, entrepreneurs and successful business people join for networking, fun and acquiring great deals on domains.
For more information on T.R.A.F.F.I.C., please visit http://targetedtraffic.com.
About SEARCHEN NETWORKS®
SEARCHEN NETWORKS® is a pioneer in search engine marketing. The SEARCHEN® mission is, and has always been, to provide services poised at increasing a company's overall visibility on the Internet. Providing customers around the world with Internet domain names (web addresses), web hosting, SSL certificates and more, SEARCHEN NETWORKS® services its own network of media properties and provides expert Internet consulting to a select group of clients throughout the United States.
For more information on SEARCHEN NETWORKS®, please visit https://www.searchen.com.