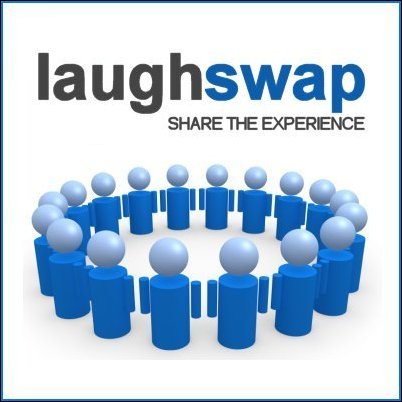 With the proper focus on the issues of today and an ear to the voice of the customer, we feel we can improve the reputation of the traffic exchange industry.
Fort Lauderdale, FL (PRWEB) December 5, 2006
In the highly competitive arena of traffic, link and web site promotion, LaughSwap.com has announced a BETA release available to select sites. Sites that currently host humor, video clips or content of other entertainment value are being extended a free welcome into the program. Even though LaughSwap.com is a relative newcomer to the industry, they are ready and prepared to tackle some of their predecessor's shortcomings.
LaughSwap was actually created out of internal necessity, Jim Simmons, Marketing Director, states. "As operator of a number of traffic-centric entertainment sites, we knew what was lacking in this industry. We've based our business models around a known profitable practice. The models are not new, but they needed uplift. No one has done anything in the past 2 or 3 years to add any maturity or accountability to the model." " With the proper focus on the issues of today and an ear to the voice of the customer, we feel we can improve the reputation of the traffic exchange industry."
One of the main issues LaughSwap.com is addressing is the integrity of the traffic exchange industry and the lack of accountability around the subject of click fraud. While Google, Overture and other massive PPC sellers fight hundred-million dollar battles over the matter, smaller traffic exchanges largely ignore the problem. "The clear message from the online community is that people want more accountability from their exchange partners. Real Time Reporting together with Credit Leniency should turn naysayers into believers."
"In our business model, webmasters receive traffic credits when their visitors click on LaughSwap links they post on their sites," notes Simmons. "Unscrupulous webmasters will attempt to earn additional hits just by clicking on their own LaughSwap links. In our Terms and Conditions, we've defined this practice as click fraud and have implemented three separate processes using different technologies in order to identify suspected fraudsters."
LaughSwap.com recognizes and believes that the poor reputation of the traffic exchange industry is due in large part to the inability or lack of desire of the exchange to reimburse the victims of click fraud. The victims in this business model would be the members whose links were clicked by the fraudster, and were charged for the traffic they received.
"We understand click fraud is an issue on any scale and we plan to attack the problem on two fronts," says Simmons. "The first is to identify and eliminate the suspected fraudsters from the partnership. The second is to ensure that the victimized parties are not charged for fraudulent traffic. We hope to mitigate these issues through processes we've identified as Click Fraud Suppression and Credit Leniency. We realize that fraud identification is not a perfect science. This is a key component of the system that we need to explore and confirm in BETA."
Usability, ease of use, and the clarity of the available real-time traffic reports are also key measures in the success of this release.
"We expect the entertainment market will be attracted to a large database of available content and a strong exchange base." says Simmons. "We're looking for a committed (BETA) base to represent and drive those metrics. And we're offering valuable long-term incentives to retain (BETA) participants as active members."
According to LaughSwap.com, the BETA will end once systems usability and performance is confirmed and a "predetermined critical mass" is reached. Once BETA targets are achieved, participants will be 'grandfathered in' on a deeply discounted plan as reimbursement for their feedback and assistance. Details will be communicated to the BETA participants.
If you would like to engage in the BETA, visit http://www.laughswap.com/beta.php to sign up and receive an activation code.
LaughSwap.com is committed to improving the reputation of the traffic exchange industry. Our goal is to generate highly targeted, inexpensive and profitable traffic to member websites. This will be done via genuine non-incentivized click-throughs to between content-based websites with guaranteed results.
Contact:
Jim Simmons
(954) 240-1500
###