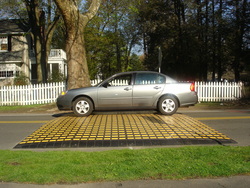 these products are every bit as effective as the asphalt devices.
Hartford, CT (PRWEB) December 5, 2007
The problem of speeding cars is not a new one. In the city of Hartford, Connecticut, they've long been working to solve it. And after trying a series of tactics over several years time, the city has come up with a solution that satisfies residents, traffic engineers, city officials, and even local snow plows.
Years ago, when Hartford residents first began complaining of speeding, the city tried a traditional approach to slow things down. Stop signs were installed in problem areas and many local streets were limited to one way access. Despite concentrated efforts, however, these techniques had little impact on speeding traffic.
The next technique that Hartford tried was to create a small speed hump program. Each time a specific street or neighborhood would complain a speed hump would be installed. The problem was, without an integrated approach that addressed all local streets, traffic was simply diverted and the speeding continued.
Around 4 years ago, the city began a master planning process for traffic calming. A two year study was conducted that looked at all of the local neighborhoods. Residents were encouraged to offer their input into where traffic calming was most needed. The project's engineers then worked with the study data and neighborhood response to decide where physical measures should be installed.
2.5 years after the study was done, Hartford began to install speed tables on designated streets. The tables the city had built were created with a foundation of asphalt and concrete. They were then banded with granite and filled with a synthetic imprint material resembling brick. Each of the tables cost the city approximately $30,000 to create. A spokesperson for the city noted that this cost was 1.5 years ago and that the cost to create a similar table today would approach $50,000.
Once the tables were installed, streets experienced a noticed reduction in vehicle speed. But as residents living in other parts of the city drove over the successful speed tables, requests began mounting for more speed control devices on more city streets.
Confronted by the prohibitive cost of these tables, the city began exploring other ways to build speed tables that would be less expensive. Several rubber alternatives were considered as a viable alternative to traditional traffic calming. Rubber solutions could be moved from place to place and used to test different locations.
Traffic Logix rubber speed tables were chosen for the streets of Hartford. Kevin Burnham, P.E., the city's Traffic Engineer, explained that the other rubber products they considered did not offer as much flexibility in layout or as optimal visibility. The Traffic Logix rubber tables are constructed of 42 x 18 inch units, which can be expanded to fit any road width and any desired configuration. The reflective tape embedded in each of the units eliminated the need for extra markings. The tables also cost a fraction of the cost of the ones that the city was creating.
Hartford keeps the Traffic Logix tables down during the spring, summer, and fall months and removes them each winter to avoid snow plow damage. The solutions have been used throughout the city wherever residential traffic calming is necessary. The city has experimented with the units to create different configurations. In one area, the products are being used to create street narrowing as an additional traffic calming technique.
Hartford has expressed their satisfaction with the performance and visibility of the Traffic Logix solutions. As Mr. Burnham said "these products are every bit as effective as the asphalt devices."
###