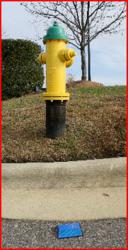 Wake Forest, North Carolina (PRWEB) January 30, 2012
Stop-painting.com is an internet leader for the most effective solutions to traffic marking challenges and have cater customers varying from the largest corporations marking huge industries facilities to everyday consumers marking their driveways. As the company celebrates fire safety month, stop-painting.com offers 15% off on blue road reflectors and a great selection of traffic stencils.
Traffic reflector is used to control traffic and encourage safe driving conditions. It is made from ceramic or plastic. Blue reflectors are very important for marking traffic lanes and are a great way to mark fire hydrants to make them easily visible at night to fire fighters. This prismatic type road marker is made of durable ABS plastic shell filled with an inert thermosetting compound. Road reflectors are very easy to install and Stop-painting.com also carry the traffic marking supplies such as reflector adhesive to help with installation.
Stop-painting.com also offers a great selection of road stencils to mark any paved surface. Road stencils come in a variety of symbols, including letters and numbers to create safe driving conditions. These stencils are great for marking pedestrian walkway areas and crossings, signs that mark intersections for potential collisions, and no-parking zones that vehicles are not supposed to enter. An effective combination of all of these road signs should promote organization and harmony in parking lot.
With this fire safety month celebration, customers can take advantage of 15 percent discount on blue road reflector and selection of road stencils. Interested buyers may use the coupon code "firesafety11" to take advantage of the discount, which will be available up to February 15, 2012. Discounts on traffic control supplies are rare, and Stop-painting.com encourages everyone to take advantage of this offer.
InSite Solutions is a leader in the traffic control supply industry, offering expert solutions for effectively calming traffic both indoors and out. InSite Solutions is the manufacturer of Superior Mark industrial floor marking tape, and also holds a patent for a pavement marking tape. InSite offers its products online at its ecommerce website, stop-painting.com.
Contact Details:
InSite's selection of workplace safety and traffic control solutions are available for sale at their ecommerce website, http://stop-painting.com/. Please contact Cliff Lowe for additional information. The telephone number is 1-866-284-1541 and email is customer-service(at)stop-painting(dot)com.
###