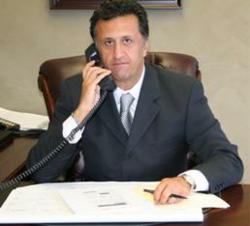 Los Angeles, CA (PRWEB) March 19, 2012
When a driver receives a ticket, it can often be confusing to understand what the appropriate first steps to take are. Many individuals may simply wish to pay the fines and move on while others may attempt to defend themselves and plead not guilty to the charges. For those that have recently received a more serious charge and are in need of a traffic ticket attorney with an unparalleled reputation, the Law Offices of Amir Soleimanian and Associates has received a prestigious A+ rating from the Better Business Bureau and is offering legal defense for all charges.
Many of California's drivers do not realize some of the lingering effects that they are going to be forced to deal with if they have recently received a ticket of any sort. While basic violations are often easy to pay off and will not impact a driver dramatically, moving violations, such as a speeding ticket or DUI, could haunt a driver for 10 years or longer.
On top of the initial fines and fees, moving violations will place points on a driver's license. This will lead to increased insurance premiums that could cost thousands of dollars a year as well as put driver's at risk for a suspended license. In these instances, drivers are going to need an experienced traffic ticket lawyer that they can trust to devote the time and energy into beating their case, no matter how difficult.
The Law Offices of Amir Soleimanian and Associates has worked with countless clients to reduce or remove the penalties and charges placed against them, no matter how severe. Individuals have found that their reckless driving charges, red light tickets, or even an overweight ticket are not something that they need to navigate alone when they have an attorney by their side that has received a staggering A+ rating from the BBB.
The traffic ticket specialists at the Law Offices of Amir Soleimanian and Associates have worked with countless clients to protect their licenses, finances, and their record.
Visit http://www.4mrticket.com or call (866) 780-1234 for more information. The Law Offices of Amir Soleimanian and Associates is located at 16633 Ventura Blvd. Suite 503 in Encino, CA 91436.
PR by Avital Web, Los Angeles SEO Company