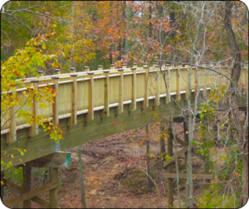 The main challenge presented was to construct these bridges with the least impact on the surrounding areas. York Bridge Concepts' crew achieved this feat to the satisfaction of all concerned.
Lutz, Florida (PRWEB) February 22, 2012
York Bridge Concepts, Inc (YBC) has recently completed the construction of seven pedestrian trail bridges on the 415-acre Tunica-Biloxi Indian Reservation, as a part of their nature trail. The modern English and French-speaking Tunica-Biloxi tribe consists of about 650 descendants of the Tunica and Biloxi Tribes who originated from Gulf Coast states. During their period of mergence, the tribes intermarried even though they spoke different languages.
In a time of disease, famine and warfare, the Tunica-Biloxi Tribe gradually made their way to Mississippi, following the river until finally settling in Marksville, Louisiana. Originally granted reservation land ownership by the Spanish government in 1790, the Tunica-Biloxi Indian Reservation opened in 1989. In 1999 the reservation was given a major redesign with developmental assistance from the U.S. Army Corps of Engineers. Today, the Tunica-Biloxi Indian Reservation features a museum, casino, resort and nature trail, accented by several York trail bridges. For more information about the Tunica-Biloxi Tribe of Louisiana, visit their website at http://www.tunicabiloxi.org.
"After several meetings and price discussions, it was decided that York Bridge Concept's bridges would fit into the project scope and budget, and we felt that their work would definitely enhance the overall look of our project," stated Artha O. Hale, Jr., Land Manager of the Tunica-Biloxi Reservation. York's seven bridges cross over several sensitive areas (including the Coulee Des Grues canal) within the boardwalk complex which connects the north side of the reservation (comprised of government offices and residences) with the south side of the reservation (consisting of the Paragon casino and resort), allowing users to stroll through natural scenery on their way.
This bridge system was no easy task for the York team as many construction challenges arose. Completed entirely on-site with limited access through dense woods and steep terrain, it was only achievable with track equipment. Some parts of the boardwalk system are over 30 feet high and driving pile foundations was difficult in the heavy clay requiring drilling beforehand. YBC plowed through these difficulties creating trail bridges that feature treated and engineered glue laminated stringers that support multiple spans and spotlight a continuous radius. Heavy timber posts with architectural caps set off the AASHTO-rated pedestrian, picket-style guiderails.
In addition to the Tunica-Biloxi Indian Reservation, YBC's trail bridges and boardwalks have been chosen by major organizations such as the National Audubon Society, YMCA and the Florida Fish and Wildlife Commission. These organizations chose YBC because of their decades of experience in building in environmentally sensitive areas and creating products that will last generations. As Mr. Hale stated, "It was our intention to preserve the natural surroundings of the project during construction due to archaeological and cultural interests; therefore, the main challenge presented was to construct these bridges with the least impact on the surrounding areas. YBC's crew achieved this feat to the satisfaction of all concerned."
Follow YBC's Bridge projects on Facebook at http://www.facebook.com/yorkbridgeconcepts
About York Bridge Concepts
York Bridge Concepts, Inc. (YBC) is the nation's largest on-site timber vehicular bridge builder. YBC works with industry-leading owners and developers on prestigious projects throughout the U.S. and Internationally, creating more than just a solution for crossing lakes, streams, creeks, wetlands or ravines. In this competitive real estate market, developers who want to ensure that their project stands apart from the competition use York Bridges to add value and create a feeling of exclusivity, warmth, and quality for their customers. Based in Lutz, Florida, with 28 years of experience, YBC has become well-known for their expertise and cutting-edge innovation in timber bridge design and on-site construction.
YBC's Trail Bridges
Each York trail bridge is custom-designed from scratch for every client they work with. YBC's ultimate goal is to provide their clients with an exclusive look for their trail while creating a low maintenance bridge that will last for generations. York trail bridges not only meet its clients' needs, but integrate into the landscape complementing the natural beauty of the surroundings. YBC utilizes premium materials, time-tested designs, expert craftsmanship, UV resistant sealers and proper maintenance methods to design and build trail bridges that maintain their aesthetic qualities for many years to come. With proper maintenance, a York Trail Bridge will last over 50 years, reducing the need for more construction.
For more information, please visit YBC's website at http://www.ybc.com.
###