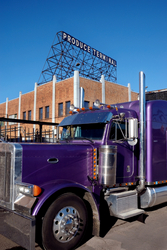 it gives me peace of mind to know precisely where my trailers are when I receive an alert.
Edmonton, AB (PRWEB) June 2, 2008
Illinois carrier Orchid Trucking recently deployed the SmartFleet® trailer tracking and GPS fleet management system to minimize risk of theft, monitor trailer temperature and optimize the productivity of drivers.
"SmartFleet has paid for itself 10 times over," said Orchid president Jim Monahan. "This trailer tracking technology is more accurate than other products I evaluated," continued Monahan, "it gives me peace of mind to know precisely where my trailers are when I receive an alert."
In addition to location and security status, Monahan also monitors reefer temperature for the temperature sensitive, high value goods he delivers. He knows immediately if the cargo he's transporting is at risk for temperature abuse so that he can take preventive action immediately. Safefreight's solution can monitor three different temperature zones within a refrigerated trailer.
SmartFleet® also helps Orchid manage the safety and productivity of their drivers. Speeding alerts help Monahan manage unsafe driving practices, and geographic markers (also known as a geo-fence or geo-zone) provide the data to confirm when drivers entered and departed a zone.
As part of the SmartFleet trailer tracking and GPS fleet management system, Safefreight offers SecurityGuard® - a covert trailer tracking device that can be mounted to any trailer, container or cargo conveyance - whether it's tethered or un-tethered. Information is transmitted from SecurityGuard® by cellular or satellite communications to the internet and your desk-top computer. You know immediately if:

A trailer has been un-tethered
If perishables are at risk
If there is an unauthorized trailer entry
SmartFleet also provides fleet management reports to validate that cargo trailer security and temperature were maintained in transit. These reports also provide important data to the shippers who have a vested interest in knowing that their goods were shipped responsibly. By reducing risk with SmartFleet®, both shippers and carriers can also establish a more favorable claims history with their insurance provider, and in some cases, reduce premiums.
"Safefreight is dedicated to providing the best trailer tracking and cargo security solution in our market," said Safefreight CEO Curtis Serna. "We look forward to helping Orchid maintain their competitive advantage in their market by providing the GPS fleet management tools they need to deliver more than the goods they carry - Orchid also delivers peace of mind to their customer."
About Safefreight
Safefreight Technology is a developer of a security-enhanced vehicle tracking system - SmartFleet®. In addition to tractor trailer tracking, this system provides cargo security through onboard alarms and real-time alerts. SmartFleet® comprises an asset to Internet solution using 24/7 GPS tracking, sensors and a robust alerting solution. SmartFleet® offers a perimeter of security that mitigates threats by providing situational awareness of tractors, trailers and cargo.
###