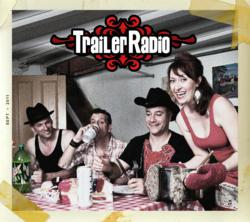 A perfect introduction to Trailer Radio's flawless country... I haven't laughed as hard at a punch line since I first heard 'F*** This Town' by Robbie Fulks. Really strong.
~ Neville Elder
No Depression
New York, NY (PRWEB) November 02, 2011
Trailer Radio, a New York City country band, has released its self-titled debut album featuring an eclectic mix of country, rock and blues songs. The group will celebrate with a record release party on November 17, 2011 from 8:30-11:30pm at Hill Country Barbecue located at 30 West 26th Street, New York, NY 10010. The event is free to the public and will feature guest performances by Karen Hudson and JD Duarte of the Brooklyn Country music community.
Trailer Radio is the brainchild of singer Shannon Brown who grew up in the coal fields of West Virginia and spent some time living in a trailer.
"Because of the mountains in WV, we could only pick up one radio station and it played a lot of country, rock, blues and gospel, with a bunch of other stuff mixed in," Brown explains. "You could also call in to buy a hunting dog or sell your guns on the air, but that's another story."
After moving to New York City, Shannon set her sights on forming a band with a unique style of metro-twang. She joined forces with country pickers David Weiss (Carlos Guitarlos, Alexis Suter Band, Levon Helm's Midnight Ramble) and Mike Dvorkin (Lonesome Prairie Dogs, Tammy Faye Starlight) whose complementary guitar styles are a hallmark of the group's sound. Bassist Joe Ongie (Minnie Driver, Aimee Mann) & drummer Kenny Soule (Nantucket, Popa Chubby, Mary McBride) round out the rhythm section.
Trailer Radio's 10-song debut album stands out due to its wildly eclectic material. Songs ranging from straight up country ("Football Widow") to blues ("11:59") to tearjerker ("Streets of Savannah") to pop-rock ("He's a Six") are woven into a cohesive whole by Brown's lead vocals and the group's impeccable harmonies. Many of the songs include an element of comedy or tongue-in-cheek humor such as "A Little Too Old (And A Lot Too Ugly)" about an aging musician whose hopes of stardom are shot down. The album also features covers of songs by Merle Haggard, Tom Petty, The Chalks and Ray Stevens.
"I wanted to do material that's reminiscent of my small town roots, but is also humorous at the same time," says Brown. "That being said, if we can make someone cry into their Pabst Blue Ribbon, we'll do that, too."
For each album sold $1.00 will be donated to Memorial Sloan-Kettering Cancer Center. Audio and video samples and additional information can be found at http://www.trailerradio.com/press.shtml.
For more information, promo requests or interviews please contact:
Shannon Brown
shannon(at)trailerradio(dot)com
(917) 796-6328
http://www.trailerradio.com
# # #