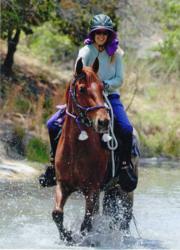 "It's easy to see that it (Dynamite Free & Easy horse nutritional supplement) has made the difference."
Meridian ID (PRWEB) November 21, 2011
Three trail horses, all relying on Dynamite Specialty Products and its understanding of horse nutrition, have been featured in the horse reality television show America's Favorite Trail Horse.
They are Lakotas Smart LilHero, owned by Francine Acord-Brown of Parachute, Colo.; Best Eppisode, owned by Soraya van Asten of Pueblo, Colo., and Tucker, owned by Dee Myers of Baker City, Ore.
The show made its debut this fall on HRTV, The Network for Horse Sports. Trail horses and riders compete in such skills as walking across rocks and through water, and jumping over obstacles.
All three owners attribute their horse's health and success to Dynamite's horse vitamins and horse nutritional supplements.
Acord-Brown gave "Hero" his first dose of Dyna-Pro horse prebiotic within hours of his birth. One might even say he was a Dynamite horse prior to his birth, since his owner had long used Dynamite horse nutritional supplements, including the Breeder Pac, to help his dam.
Hero initially retired last year, after placing in the top 10 of the American Paint Horse Association Honor Roll in Working Cow Horse competition in both open and senior divisions.
When Acord-Brown heard about the American Trail Horse competition, she started training Hero again. Like all the horses on Acord-Brown's ranch, Hero had always gotten a daily dose of Dynamite's fortified Pelleted Grain Ration. In preparation for the competition she added, OxEMega, a horse nutritional supplement of Vitamin E, Omega-3 fatty acids from chia seeds and other supplements, and H.E.S, which provides extra protein and fat.
At the auditions for the show last April, the judges commented on Hero's gorgeous coat and thought he lived in a much warmer climate than the 6,700 elevation and winter snow banks of Colorado. To combat the heat during filming and the trip and climate change from Colorado to Texas, Hero received Dyna-Pro horse prebiotic twice daily.
Best Eppisode was introduced to Dynamite at age 3, when she was lucky enough to meet van Asten. Eppisode had been eating manure. She stopped once her diet was balanced with horse vitamins and minerals from Dynamite.
At age 5, "Epp" takes daily doses of her Dynamite vitamins, Free Choice minerals and Easy Balance. On the trip to Texas for the competition, Eppi also received Dyna Spark daily to balance her electrolytes and to keep her drinking on the two-day haul. She also got DynaPro horse prebiotic to keep her digestive system calm.
"She never showed any signs of stress and came home totally healthy, thanks to Dynamite," van Asten said.
Tucker, a 17-year old Paso Fino gaited horse, relies on Dynamite's Free & Easy horse nutritional supplement to keep his joints flexible.
"I had started using Dynamite's Free & Easy the previous year and had noticed a discernible difference in the fluidity of his movements during training and in clinics and competitions. I think the inclusion of Free & Easy was instrumental in 17-year-old Tucker's ability to stay sound and comfortable for the 14-day trip to the Favorite Trail Horse finals in Texas, as well as contributing to his outstanding performance there and in our Mountain Trail competitions," Myers said.
Tucker placed in the top three in every class he entered in the 2011 season. At the National Mountain Trail Championships, Tucker was honored with being chosen as one of the first six recipients of the Mountain Trail Horse Hall of Fame.
About Dynamite
A family-owned business that has specialized in animal nutrition for four generations, Dynamite Specialty Products makes products for virtually every member of the animal kingdom. It has long developed all-natural horse feed and nutritional supplements for prize-winning racehorses. Its specialists in horse nutrition and animal nutrition can recommend exactly what vitamins, minerals and other supplements best support horses with laminitis, dogs with allergies, cats whose owners make their own food, and cows with digestive issues.
Dynamite uses only natural ingredients, made in the United States for better quality control. Throughout its history of making natural dog food, it has always looked at alternatives to animal by-products, antibiotics, chemical preservatives, fumigants, artificial coloring and other additives that have later caused dog allergies and other health problems. Its manufacturing processes are so stringently controlled that Dynamite has a separate mill to produce feed for herbivores, such as horses and poultry that are especially sensitive to contamination from meat needed by other species such as dogs and cats.
Dynamite products are available through more than 4,000 individual distributors across the country, including Acord-Brown and van Austen. All products use only natural ingredients and are made in the United States for quality control.
Additional information about Dyna-Pro and other Dynamite products is available at dynamitespecialty.com. Dynamite's headquarters are in Meridian, Idaho, and additional mills are in Iowa.
Keyword Tags:
"horse feed," "horse health," "all natural horse feed," "horse nutrition," "horse vitamins," "horse nutritional supplements," laminitis, "horse probiotic," "horse prebiotic," "trail horse"
###