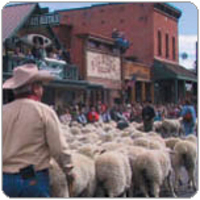 A don't-miss entertainment value.
Ketchum, ID (PRWEB) September 30, 2010
It is no surprise that many of the events that epitomize Sun Valley are very often unclassifiable or just simply unique, like the Trailing of the Sheep. What else would you call a parade of 2,000 sheep down Main Street? Celebrating sheep ranching's long history of sustainability, Sun Valley's 14th Annual Trailing of the Sheep Festival is set for October 8-10, 2010, and features many local products, such as grass-fed lamb, beautiful woolen creations, lanolin, soaps and cheese.
The event was named one of the Top 100 Events in North America for 2011 by a selection committee of tourism experts for the American Bus Association. ABA President and CEO, Peter J. Pantuso, called Sun Valley's Trailing of the Sheep Festival "a don't-miss entertainment value."
ResortQuest Sun Valley is a proud lodging sponsor of the Trailing of the Sheep Festival. A leading management company of vacation rentals in Sun Valley, ResortQuest offers 20% off lodging in Sun Valley for Trailing of the Sheep Festival guests. Guests should call 1-800-521-2515 and mention Promo Code "INT TSF," or visit ResortQuestSunValley.com to take advantage of this special offer.
Featured events for the Trailing of the Sheep Festival include:
Friday, October 8
The festival kicks off on Friday, October 8, with afternoon workshops featuring gourmet chefs cooking lamb, as well as workshops on working with fiber. The Art and Lamb Foodie Fest takes place Friday evening, followed by an evening with Alisa Smith, author of the bestsellers, The 100-Mile Diet and Plenty. A panel of experts and storytellers follows the presentation.
Saturday, October 9
At the Sheep Folklife Fair in Hailey, guests watch regional artisans work with wool in shearing, carding, spinning and weaving, and herding sheep demonstrations. Performances include Peruvian musicians and dancers, Oinkari Basque dancers, the Boise Highlanders, bagpipers and drummers. There are sheep wagon displays, as well as wool and crafts shops, fabulous food and activities for the kids. Fiber Fest is a new addition this year, featuring workshops, competitions and demonstrations.
Sunday, October 10
The Trailing of the Sheep Parade, a nearly 150-year-old tradition, is led on Sunday by one of the local sheep ranching families and joined by historic sheep wagons, musicians and dancers. The Trailing of the Sheep barbecue and sheepherder's walk take place after the parade.
About ResortQuest
Headquartered in Fort Walton Beach, Fla., ResortQuest is the largest marketer and management company of vacation condominiums and home rentals in the nation, with a portfolio of nearly 10,000 U.S. vacation rental properties. With partner affiliates in North America and Europe, ResortQuest offers more than 100,000 vacation rental options in over 140 destinations worldwide.
###