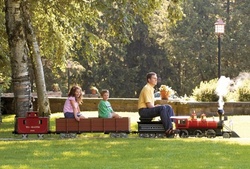 We are excited to announce our backyard trains are now available for the first time
PLYMOUTH, Minn. (PRWEB) May 9, 2008
GATC sells a full range of period-specific backyard trains and accessories, including locomotives, riding cars, rolling stock, signals, signs and lights, pre-assembled track sections and more.
The locomotives and riding cars are powerful enough to carry the operator and seven to eight additional adults or children. Yet they're small enough - only about three feet tall at their highest point - to fit perfectly into most backyard landscapes.
"We are excited to announce our backyard trains are now available for the first time," said Mark Strobel, National Sales Manager at GATC. "Our backyard riding trains are great way to bring a fun, safe and educational hobby to people everywhere. We are proud to be sharing the news on America's National Train Day - the official anniversary of the completion of the first transcontinental railroad in 1869."
Reliable Operation and Authentic Features
The locomotive and integrated riding tender are 24-volt battery-powered for safety, reliability, ease of operation and low maintenance. All finishes are of the highest quality and include solid bronze and brass trim, cast-iron wheels, powder-coat painted steel and cast aluminum.
The trains run on 7.25" and 7.5" gauge heavy-duty, aluminum track mounted to specially-treated 2" x 2" wooden railroad ties. A built-in digital sound system and smoke and steam generator are included to provide the most realistic and authentic riding train experience possible. Homeowners can hire a local landscape contractor to perform a turn-key installation, assist with installation or install their trains and tracks themselves.
Residential and vacation properties with an acre or more of land are the primary target market for GATC's backyard trains. Some trains will also be installed in light commercial applications such as garden centers, orchards and vineyards, local and county fairs, shopping centers and more.
All products are now available factory-direct through the GATC website at http://www.greatamericantrain.com or by calling 1-800-486-0553 (USA and Canada) or +1-763-476-5140. Emails may be sent to [email protected]
About The Great American Train Company
Headquartered in Plymouth, Minnesota, USA, The Great American Train Company is one of just a handful of companies in the world that design and manufacture complete backyard riding trains. GATC's founders are train enthusiasts and wish to share their hobby with others by offering the most solid, reliable and technologically-advanced backyard trains and accessories available today.
More information about The Great American Train Company, its history and products is available on the Internet at http://www.greatamericantrain.com or by calling
1-800-486-0553 (USA and Canada) or +1-763-476-5140. E-mail to [email protected]
Notes to Editors: The Great American Train Company is a trademark of The Great American Train Company LLC. All other trademarks are the property of their respective companies.