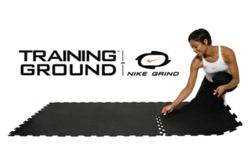 To date, more than 28 million pairs of shoes have been collected globally and reused or recycled
Chandler, AZ (PRWEB) May 31, 2013
Rubber Flooring Inc. and the manufacturers of Training Ground Tiles have reached an exclusive online sales agreement. Training Ground tiles are a rubber gym tile recommended for use as home gym flooring. Each tile is made of a combination of recycled rubber and recycled Nike shoe outsoles known as Nike Grind.
"Training Ground tiles have been around for a number of years. These tiles were delivered to consumers through standard flooring distribution channels," states RubberFloorincInc.com CMO Anthony Schmidt. "The problem with this approach to flooring distribution is that it creates unnecessary middlemen and the price of the flooring ends up higher than it could be for the end consumer." Mr. Schmidt continues, "By offering this revolutionary gym floor product through our web store and having it ship directly from the manufacturer, we are now able to offer this product at prices lower than the classical big box hardware stores or local flooring retailers."
Training Ground tiles are one of many products Nike uses in their ReUse-A-Shoe program to recycle shoes. To date, more than 28 million pairs of shoes have been collected globally and reused and/or recycled into other products. Other products which Nike shoes are recycled into include athletic track surfaces, playground surfaces, basketball and tennis courts and new Nike shoes.
Excitement at RubberFlooringInc.com is high for this partnership according to COO Kurt Leitinger. "We have always tried to line ourselves up with major television shows and brand names to help better sell our recycled rubber flooring products. We cannot think of any television show or company that is bigger or more exciting to work with than Nike. Over the years, we have helped save over 100 million pounds of tires from entering landfills. This amount equates to roughly 3.2 million tires. We have a great opportunity to also be a part of helping to recycle millions of shoes. I don't know of any flooring company who can say they offer more green flooring solutions than we do at this point."
Training Ground Tiles can now be found for sale at the RubberFlooringInc.com website. The tiles are also still available through normal flooring distribution channels and in some big box hardware stores. To learn more about Training Ground tiles, visit the website http://www.traininggroundusa.com.
About IncStores, Owner of Rubber Flooring Inc.
Headquartered in Gilbert, AZ, IncStores.com owns the leading online destination for residential and commercial specialty flooring options including RubberFlooringInc.com, FoamTiles.com, and Garage FlooringInc.com. Rubber Flooring Inc. is focused on providing the best selection of recycled rubber flooring, garage flooring, and Martial Arts Mats matting products online to its valued customers. All of Inc Stores web shops offer competitive pricing, a top notch and knowledgeable sales and service, and the widest selection available. For more information, please visit http://www.rubberflooringinc.com.