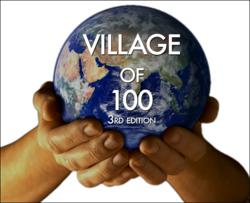 We understand the advantage of educating a team about cultural diversity and are proud to offer the best corporate training videos around this topic
Seattle, WA (PRWEB) November 15, 2012
Carlton's Training Solutions has released the revised and better than ever best seller Village of 100 diversity training video. Carlton's Training is a leader in corporate training videos, with a large selection of various topics from diversity training to sales training to leadership training. With today's corporate world being so competitive a management team must educate their staff on multiple subjects and keep their team on the same page. Carlton's Training Solutions is announcing their new updated release of the 3rd Edition of Village of 100 and they also have over 2,000 titles available.
The 3rd edition of Village of 100, a bestselling diversity training video, is now available at Carlton's Training Solutions. This effective teaching aide will educate a business owner's team to completely understand diversity and its importance in the workplace.
Village of 100 has been revised and updated to better relate with todays' ever-changing demographic world. This video looks at how diverse the world would be if the population was shrunk down to precisely 100 people, with all existing ratios the same. This interesting approach on diversity puts the corporate environment into perspective.
In this 3rd edition of Village of 100, the training video talks about the need for tolerance and understanding amongst employees. Accepting others in daily life is important, but accepting and respecting others in the corporate world is a necessity. If a management team does not respect each other, their work and productivity suffers. Therefore profits suffer. When a workplace is created where all staff feel a unity of humankind without the separation of gender, race, religion, and sexual preference, productivity and morale soar.
"We understand the advantage of educating a team about cultural diversity and are proud to offer the best corporate training videos around this topic," said Linda Maxwell of Carlton's Training Solutions.
About Carlton's Training Solutions
Carlton's Training Solutions has been serving the corporate world for over thirteen years always putting the customer first with top customer service and the widest selection of corporate training videos. Their training programs are used by a wide variety of industries, including hospitality, retail, industrial, government, manufacturing, hospitals, healthcare, human resources training and more. Carlton's carries titles by all of the Training industry leaders such as Ken Blanchard, Bob Farrell, and James Autry. To learn more about Carlton's Training Solutions and see their selection of diversity training videos, visit them at http://carltonstraining.com