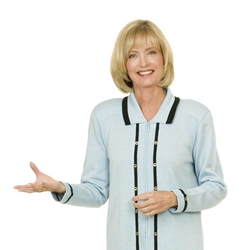 In times like these, with the uncertainty and insecurity in the corporate job market, the Compelling Speaker Certification puts you in control of your destiny
Charlotte, NC. (PRWEB) April 25, 2009
Now offered for the first time, the Compelling Speaker Certification program certifies people in how to train others in presentation skills, teaches them the management and marketing strategies to enable them to run a business with that training, and provides them with unique resources that position them for success. It's a program designed to give them the credibility and know-how that would otherwise take them years to acquire.
"In times like these, with the uncertainty and insecurity in the corporate job market, the Compelling Speaker Certification puts you in control of your destiny," says Certification leader Barbara Busey. "I created this program to enable others to do what I've done for the last 19 years and drive their own success. I want others to experience the satisfaction of making a living making a difference in people's professional development."
The Compelling Speaker program is set apart from other presentation skills workshops through the use of an audio CD that provides the "instruction" to participants before the workshop. This means the workshop time is entirely devoted to participants' intensive, hands-on participation with several stand-up opportunities, videotaping, and individualized feedback.
The three-day certification program includes: immersion in the Compelling Speaker workshop to experience it firsthand; the instruction, tools and systems to run a business doing this training; additional follow-up coaching; and support from the Compelling Speaker Network. In addition, one full day will be devoted to marketing strategies delivered by a certified marketing coach.
Initial Certification training dates are: June 18-21, 2009; August 6-9, 2009; and September 24-27, 2009. All sessions will be held in Charlotte, NC. Certification fee for the three-day session includes hotel and meals.
To learn more and download the application form, go to The Compelling Speaker Certified Site.
The Compelling Speaker was created by Barbara Busey, the president/owner of Presentation Dynamics, who has 19 years of experience training people in the dynamics of presentations. Compelling Speaker clients have included companies in retail, banking, media, insurance, manufacturing, information technology, and academia. In addition to her audio CD, The Compelling Speaker, Busey has also produced a DVD, How to be a Dynamic S.P.E.A.K.E.R., and is the author of the book, Stand Out When You Stand Up--An A to Z Guide to Powerful Presentations.
# # #