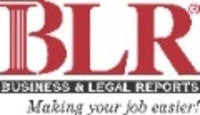 HR and safety professionals have no choice but to keep up with federal and state mandated training requirements
OLD SAYBROOK, Conn. (PRWEB) May 1, 2008
"HR and safety professionals have no choice but to keep up with federal and state mandated training requirements," said Robert Brady, founder and CEO of BLR. "The BLR Employee Training Center courses are developed by experts who stay up to date on the latest changes in federal and state mandated HR and safety training requirements. Professionals can now provide high-quality, compliant training for their teams without hiring expensive consultants or trainers, and without spending all of their time preparing and delivering training."
The BLR Employee Training Center provides Web-based learning that can be utilized by any organization and their employees with a computer and Internet access. The BLR Employee Training Center is ready to use "out-of-the-box" and requires only minutes for the person responsible for employee training to provide training and testing, and to keep proper documentation of employee training sessions and scores.
The Employee Training Center includes:
-- Over 60 HR and safety training courses developed by BLR legal and training experts on topics such as sexual harassment, accidents, diversity, forklifts, bloodborne pathogens, FLSA, FLMA, job descriptions, slips, trips, and falls, and many more.
-- Web-based training allows employees to train anywhere, anytime.
-- Automatic tracking and documentation of individual employee training and test scores.
-- Flat-fee--no per-course or per-seat fees. Unlimited use of all courses is included in a yearly subscription.
The BLR Employee Training Center is now available to organizations of all sizes that need safety and HR-related employee training. For more information go to Training.BLR.com or call 866-696-4827
About Business & Legal Reports, Inc.
Business & Legal Reports, Inc. (BLR(R)) is an award-winning publisher dedicated to supporting companies with up-to-date HR, Compensation, Safety and Environmental analysis, training, and regulatory compliance information. Founded in 1977 with a mission to provide executives and decision makers with reliable, easy-to-understand analysis of the ever-increasing and complex state and federal laws, today BLR(R) delivers online services such as HR.BLR.com, Compensation.BLR.com, Safety.BLR.com, Training.BLR.com and Enviro.BLR.com as well as popular Web destinations for professionals such as the HRDailyAdvisor.com, SafetyDailyAdvisor.com and HRChallenge.com. BLR also publishes highly regarded state compliance services such as What to Do About Personnel Problems in (Your State), Employee Compensation in (Your State), and Environmental Compliance in (Your State) as well as best practice newsletters, benchmark surveys, training materials, and books for more than 300,000 companies and their employees worldwide. For more information, contact BLR at http://www.BLR.com or call 1-800-727-5257.