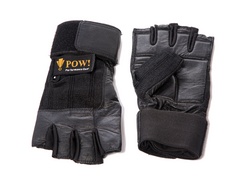 The padding is A1, they're fantastic, my husband was so pleased with his gloves I went to the website almost immediately
Sheffield, South Yorkshire (PRWEB) August 18, 2008
Nine new, superior quality, UK designed training gloves, belts and accessories have been launched by POW! Performance Gear, including an innovative leather grab and lifting hooks.
POW! Performance Gear designs, manufactures and provides top quality, ergonomically designed training accessories for all gym users, whether they are just starting out and want some joint support, participate in regular aerobics classes, do circuit training, work out with weights or are amateur or professional athletes.
Three new gloves have been added to the range. A new fitness training glove has been designed for those using light weights during aerobic or fitness classes. The Supreme P Training Glove is in black leather and is fully padded including the fingers and thumbs, and with a nylon elasticated mesh back, making it extremely comfortable in use and an effective protection against calluses and rough palms. The Elite Training Glove adds a wrist strap for joint protection.
For those who find gloves uncomfortable, the XP Pow Grabs are leather pads fixed to the wrist, aiding with grip when needed and leaving the hands free when not.
New weight training and dipping belts have been added to the range too. The Platinum Contour Training Belt is made from reinforced Neoprene and is exceptionally well fitted, contouring neatly around the waist to provide support where needed the most. For heavier lifting, the MAX HD Training Belt is POW! Performance Gear's first heavy duty leather belt with a velcro and double-pronged roller buckle fastening ideally suited for all strength athletes.
Two dipping belts have also been introduced, one made from Neoprene and one from leather. The latter dipping belt features generous padding for the lower back. Both come with chain and fastening from which a weight is suspended, allowing users to dip more than their body weight. Both products have been thoughtfully designed and offer an extremely comfortable dipping experience.
Two lifting hooks have been introduced, providing assistance with grip when lifting heavy weights or performing higher repetitions, allowing for more effective training.
Finally, the F1 Gripper is a lightweight, pocket-sized foam grip trainer to replace the usual spring-based design, allowing users to improve grip strength and train their forearms (which can be overlooked whilst working out) throughout the day.
The range has received very positive feedback from customers and business buyers, and is endorsed by bodybuilder James Braddock, current NABBA Mr North East Novice Champion. Customers David and Joyce Harbert said "The padding is A1, they're fantastic, my husband was so pleased with his gloves I went to the website almost immediately".
POW! Performance Gear's full range is available online at http://www.powperformancegear.com
###