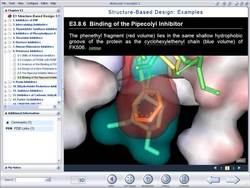 As pharmaceutical companies look to provide suitable training options for newly recruited chemists who have backgrounds in synthetic or organic chemistry, they realise that on-the-job-training is simply not enough to bridge the gap between academia and the industry
Paris, France (PRWEB) April 1, 2009
International well-known experts in the field of drug design have shared their expertise, knowledge, and experiences to allow the Synergix team to create a unique e-learning series, the Molecular Conceptor Learning Series, which provides all the information needed by discovery chemists to make informed decisions concerning the rational design of a drug.
*Medicinal Chemistry, *Drug Design, *Structural Bioinformatics, *Cheminformatics and *Practical Drug Discovery: Case Studies are the five computer-based training modules that make up the Molecular Conceptor Learning Series, which is available for immediate evaluation and purchase.
The use of a rational approach to drug design has increased considerably in the last decade. It is dependent on a multidisciplinary team that works as an integrated unit. Recent years have seen an increase in both the complexity of drug design research methodologies and the number of new technologies used by a drug discovery team. Consequently medicinal chemists have been forced to expand their knowledge base extensively and currently face a steep learning curve.
"As pharmaceutical companies look to provide suitable training options for newly recruited chemists who have backgrounds in synthetic or organic chemistry, they realise that on-the-job-training is simply not enough to bridge the gap between academia and the industry," says Claude Cohen, CEO of Synergix and former Head of Molecular Modeling and Drug Design, Ciba-Geigy (Novartis), Switzerland. "As soon as medicinal chemists enter the pharmaceutical industry they recognize the need to have a good understanding of computer-aided molecular design so that they can work synergistically with other members of their discovery team. The Molecular Conceptor Learning Series provides permanent access to a suite of training modules, which provide a comprehensive and tailored solution to meet the knowledge requirements of a chemist working in a drug discovery environment."
Topics such as QSAR, Molecular Docking, Molecular Similarity, Encoding Molecules, Library Design, 3D-Database Searching, Structure-Based Design, Ligand-Based Design, Peptidomimetics and Molecular Dynamics are just some of those presented in the Series using a multimedia environment, with the aim of deepening the understanding of medicinal chemists as to the process of modern drug discovery. The modules may be purchased individually or as a complete suite. The Series is available as either a single-user license or as a multi-user network license.
###