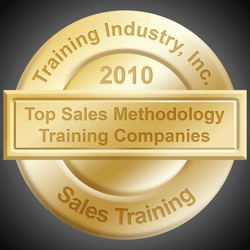 Cary, NC (PRWEB) March 17, 2010
TrainingIndustry.com releases today its 2010 Top 20 Sales Methodology Training companies. The "Top 20" list includes those leaders in the training industry that have demonstrated experience and excellence in providing sales methodology training services to a variety of clients. It recognizes the leading Sales Training companies for their high quality of services, comprehensive capabilities and successful and proven training deployments.
TrainingIndustry.com frequently reviews, conducts assessments and surveys sales training companies that provide services to the corporate and government market. Intended to assist buyers of training services, The Top 20 list supplements the procurement process and the evaluation of potential training partners and vendors.
Click here to view the Top 20 Sales Methodology Training Companies
Selection to this year's "Top 20 Sales Methodology Training Companies" was based on the following criteria:

Industry recognition and innovation
Quality of sales methodology and impact on clients
Breadth of company's offering (products and services)
Strength of their clients
Company size and growth potential
Geographic reach
Experience in the marketplace
"We are pleased to announce our third annual top 20 List for the sales training marketplace - 2010 Top 20 Sales Methodology Training Companies," said Ken Taylor, Chief Operating Officer, Training Industry, Inc., "Each company on this year's list has developed superior quality programs and innovative approaches to developing sales teams."
"In tough economic times, these companies have continued to shine by delivering impactful programs," adds Doug Harward, CEO Training Industry, Inc., "this list reflects the best of the best in sales training."
Click here to view the Top 20 Sales Methodology Training Companies
###