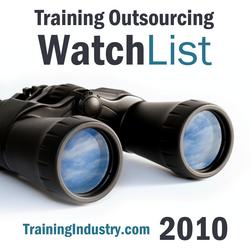 Cary, NC (PRWEB) May 27, 2010
TrainingIndustry.com is pleased to announce today the companies who have been named to the 2010 Training Outsourcing Watch List. This newly created Watch List recognizes 16 companies from all over the globe that provide outsourced learning services.
Selection to the Watch List is based on the following criteria:

Innovative Service Offerings
Expansion of services into a more global marketplace
Unique and proven approach to Business Process Outsourcing (BPO) Solutions
Quality of the applicants' client list
Each company who participates undergoes extensive research, including thorough analysis of their capabilities, experience, and expertise. The end result is a list that acknowledges companies poised to capture share in the training outsourcing marketplace.
"As part of our commitment to the industry, the 2010 Watch List offers a comprehensive and objective look at companies that have demonstrated innovation and excellence in the training outsourcing space," comments Doug Harward, Chief Executive Officer for Training Industry, Inc.
Adds Ken Taylor, Chief Operating Officer for Training industry, Inc, "Our goal in publishing this prestigious watch list is to help corporate, government, and training executives with the selection of a learning BPO partner. This year's Watch List shows the continued strength and diversity of companies entering or competing in the BPO space."
Because of the breadth of services included in any training outsourcing engagement, no attempt is made to rank the companies on the list.
Click here to view the Top 16 companies who have been named to this year's "Training Outsourcing Watch List."
About TrainingIndustry.com
As a business, TrainingIndustry.com creates a trusted and thought-provoking environment for business and educational professionals to interact and gather information about the training industry. TrainingIndustry.com spotlights the latest news, articles, case studies, and best practices within the training industry. Our focus is on helping dedicated business and training professionals get the information, insight, and tools needed to more effectively manage the business of learning.
###