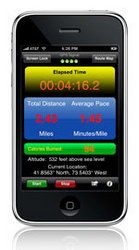 TrainingPeaks users can already upload biometric data from over 70 dedicated GPS, heart rate and power measuring devices, but Future Apps is the first iPhone developer we have collaborated with
Lafayette, CO (PRWEB) January 11, 2009
Peaksware, LLC and Future Apps, Inc announce the addition of support for Peaksware's online training log TrainingPeaks to Distance Meter Pro, a popular GPS activity tracking application for the iPhone. This easy to use combination brings a powerful new convenience to fitness tracking on the iPhone.
Users of Distance Meter Pro will be able to create accounts, upload their workout data to TrainingPeaks.com, and use the advanced suite of online tools to add a new dimension to their workout tracking and training. TrainingPeaks users with an iPhone 3G may now use their phone's internal GPS to easily measure and keep track of their workouts using Distance Meter Pro, without the need to carry multiple training devices with them. Click here to learn how Distance Meter Pro works.
"TrainingPeaks users can already upload biometric data from over 70 dedicated GPS, heart rate and power measuring devices, but Future Apps is the first iPhone developer we have collaborated with," said Donavon Guyot, CEO of Peaksware. "Uploading GPS data from Distance Meter Pro gives the user a glimpse into the future of what is possible when you combine the ease of use and convenience of iPhone apps with rich internet applications like TrainingPeaks.com."
The new version of Distance Meter Pro is available immediately on the iTunes App Store for a small one time charge of $2.99, and as a free upgrade to all existing Distance Meter Pro users. Creating and using a basic account with TrainingPeaks.com is free, so take your iPhone with you on your next run, hike, or bike, and let Distance Meter Pro and TrainingPeaks bring you a step closer to fulfilling your New Year's resolutions!
Purchase Distance Meter Pro in the iTunes App Store.
About Peaksware:
Peaksware, LLC, founded in 1999, develops software systems to help motivated individuals and professionals achieve health, fitness and peak performance. In addition to the world's leading online training and nutrition log, TrainingPeaks.com, Peaksware also produces the desktop products Device Agent and WKO+. Each of these products is sold direct both to consumers and can also be customized in a white label format for enterprise customers. For more information or to discuss business development opportunities please visit http://www.peaksware.com
About Future Apps Inc:
Future Apps is a software based company dedicated to providing cutting edge software solutions to the iPhone/iPod Touch mobile platform. We pride ourselves in creating applications that are simple and easy to use. We understand that a user on the go needs information quickly, easily, and with as little interaction as possible. That is the design philosophy infused in our apps. For more information, please visit http://www.future-apps.net.
# # #