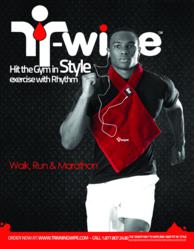 T-Wipe is designed to protect anyone from transmitting germs while working out
(PRWEB) May 03, 2011
The gym is likely to make some people sick; it's similar to any other public place people are going to run into one another gripping machines and spreading germs. It's more important now than ever to be protected against germs and viruses. The new Training Wipe™ Fitness Towel, also known as T-Wipe is designed to protect anyone from transmitting germs while working out, stop the spread of disease and infection from fitness machines.
About Training Wipe
The new Training Wipe™ Fitness Towel has countless uses and is safe for all ages. The T-Wipe ceases exorbitant sweat from inconveniently dripping into the eyes and mouth, boosting performance levels during extended training sessions and work out routines. It also absorbs sweat seven times its weight, eliminates odor-causing bacteria, and cleans surfaces better than an average towel. No fitness towel available compares to the T-Wipe's exclusive design and remarkable benefits to the consumer.
There are many colors from which to choose that will uniquely highlight personal style. The trendy ice pocket for cooling down and the distinctive diamond-shaped strap keeps each individual with a hands-free routine, increasing productivity. Accessorized by an MP3 and iPod compartment, the T-Wipe allows music to remain readily accessible which reinforces the soundtrack of life.
Recent studies show that gyms are a breeding ground for bacteria, influenza and staphylococcus. The Training Wipe™ Fitness Towel intends to become the No. 1 exercise towel to protect any person engaging in physical activity from germs and bacteria in a wide range of settings and sports because of its enhanced protection against germs of all kinds.
The Training Wipe™ True Color Mission
Ten percent of all proceeds from each T-Wipe purchased will be donated to support non-profit organizations that represent Training Wipe™ towels. For instance, get a red T-Wipe, a donation towards heart disease will be made. Get a green T-Wipe, a donation towards saving the planet will be made. Get the pink T-Wipe, a donation towards breast cancer research will be made. It's a simple idea that transcends incredible innovation to another level. The monetary momentum of this initiative will help people in need and contribute towards the greater good of humanity within each of our communities.
# # #