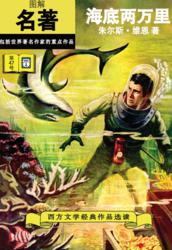 Jim Bryant, Trajectory's CEO indicated, " The Chinese editions of the classics are now available to 1.3 billion native speakers. This extends the series' reputation as a fine educational tool to the China market."
Cambridge, MA (PRWEB) August 29, 2012
Beijing, China - August 29, 2012 - Trajectory, the Cambridge, MA based publishing company has announced today at The Beijing International Book Fair in Beijing, the Chinese edition of the children's classic 20,000 Leagues Under The Sea and War of the Worlds. These Classics Illustrated graphic novels and comics have been designed and packaged to be read as an eBook. Chinese readers from all over the world may download these classics today at Kobo and Amazon.
20,000 Leagues is a classic science fiction novel by Jules Verne. Verne's imaginings where quite prophetic, with vivid descriptions of submarines capable of diving into deep oceans. The War of the Worlds is a timeless novel by H.G. Wells. Taking place in London, it covers the fears; escape plans and struggles for reunion of families amidst an invasion from mars. The English editions of Classics Illustrated graphic novels and comics are currently available at eBook retailers around the world. The series includes Black Beauty, Snow White, Treasure Island, Jane Eyre, Alice in Wonderland, The Three Musketeers, Robin Hood, Hamlet, Huckleberry Finn, The Count of Monte Cristo, and over one hundred more titles.
Classics Illustrated are illustrated adaptations of traditional literature, non-fiction and biographies. The CI series includes folktales, myths, epics, legends, fables that have been passed down by storytellers for hundreds, even thousands, of years to enlighten and entertain generations of listeners, young and old.
According to William B. Jones, Jr., author of Classics Illustrated A Cultural History, "Classics Illustrated was the most successful series of its kind, outdistancing all competitors and successors in terms of print distribution and circulation. It was considered one of the largest children's publication of any kind in the world."
Jim Bryant, Trajectory's CEO indicated, " The Chinese editions of the classics are now available to 1.3 billion native speakers. This extends the series' reputation as a fine educational tool to the China market."
About Trajectory Inc.
Trajectory is a Cambridge, MA based technology and marketing oriented publishing company that collaborates with leading authors, artists, and traditional publishers. Trajectory has over 130 eBooks and apps available worldwide from Amazon, Apple, Barnes and Noble, Bokus, Chapters Indigo, Google play, Kalahari, Kobo Books, Tescoe Books, Whitcoulls, and W.H. Smith. Trajectory titles may be viewed on; Android tablets and smartphones, Amazon Kindle Fire, Apple IPad, iPhone and iPod touch, Barnes and Noble NOOK Tablet and NOOK Color, Google Nexus 7, Kobo Vox Reader, Motorola CLIQ and DroidX, and Samsung Galaxy Tab.
Press Contacts: Maura K. Phelan Trajectory, Inc. (617) 564-1550
One Broadway – 17th floor, Cambridge, MA 02141 media (at) trajectory.com