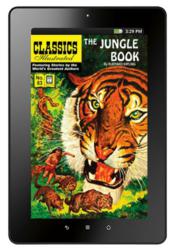 "We're thrilled to offer Classics Illustrated titles to our customers around the world," said Michael Tamblyn, EVP Content, Sales and Merchandising, Kobo Inc.
Cambridge, MA (PRWEB) May 22, 2012
Trajectory, Inc. announced today that the iconic Classics Illustrated comic and graphic novel series are now available in the Kobo eBookstore. The series consists of over 120 digital graphic novels presented in a comic book format with robust color illustrations that introduce great literature to readers of all ages. Trajectory is collaborating with Kobo, Inc. a leader in eReading to deliver the series on the Kobo Vox eReader.
Comic book lovers worldwide get ready; the Classics Illustrated digital graphic novels published by Trajectory are now available for purchase at Kobo.com. The series features the world's greatest stories by the worlds greatest authors including: "The Last of the Mohicans," "War of the Worlds," "The Pearl Princess," "Treasure Island," "The Count of Monte Cristo," "Huckleberry Finn," "Alice in Wonderland", "Jane Eyre" and hundreds more.
"We're thrilled to offer Classics Illustrated titles to our customers around the world," said Michael Tamblyn, EVP Content, Sales and Merchandising, Kobo Inc. "With the Kobo Vox multimedia eReader and the Kobo eReading app for iPad, we are opening up a new way to enjoy classic works of literature."
"Trajectory, Inc.'s Classics Illustrated has diversified and strengthened its already solid reputation as a thoughtful, intelligent publisher of canonical, traditional titles" said Dr. Katie Monnin, Professor of Literacy, University of North Florida. "From the perspective of an educator I foresee limitless potential in bringing Classics Illustrated into the classroom. Probably well known to teachers, parents, and librarians the Classics Illustrated titles are sure to be engaging and exciting comic book stories for an entirely new generation of readers. An A+ idea and comic book execution eBook format, I highly recommend these titles make their way into your child or student's hands."
Novelist Anne Rice states from a recent PW Comics World piece, "I remember reading Jane Eyre in the Classics comics and how much I loved the details and seeing the madwoman in the attic in those little panels and seeing the whole novel play out. What always drew me were very detailed, representational drawings, rather than something abstract. I wanted to see a lot of richness and a lot of depth." Classics Illustrated graphic novels, she said, "Have a freedom that is all their own to create an entire universe in detail fairly inexpensively, compared to a film."
"Our Canadian partners at Kobo are wonderful supporters of digital comic and graphic novel content with the outstanding Kobo Vox," said Jim Bryant, Trajectory CEO. "Making the Classics available in digital form brings these brilliant works to where people live now, on their digital devices."
Trajectory is a Cambridge, MA based technology and marketing oriented publishing company that collaborates with leading authors, artists, and traditional publishers. Trajectory has 130 eBooks and apps in distribution. Become a fan of Trajectory on Facebook. Follow Trajectory on Twitter.
Kobo Inc. is one of the world's fastest-growing eReading services offering more than 2.5 million eBooks, magazines and newspapers– and counting. Believing that consumers should have the freedom to read any book on any device, Kobo has built an open-standards platform to provide consumers with a choice when reading. Inspired by a "Read Freely" philosophy and a passion for innovation, Kobo has expanded to nearly 200 countries, where millions of consumers have access to localized eBook catalogues and award-winning eReaders, like the Kobo Touch. With top-ranked eReading applications for Apple, BlackBerry, Android, and Windows products, Kobo allows consumers to make eReading social through Facebook Timeline and Reading Life, an industry-first social experience that lets users to earn awards for time spent reading and encouraging others to join in. Headquartered in Toronto and owned by Tokyo-based Rakuten, Kobo eReaders can be found in major retail chains across the globe.
Press Contacts: Maura K. Phelan Trajectory, Inc. (617) 564-1550
One Broadway – 17th floor, Cambridge, MA 02141 media(at)trajectory.com