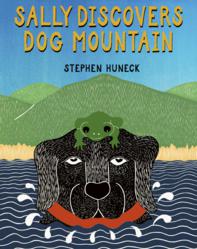 Patrick Leahy, U.S. senator and a longtime friend of Stephen Huneck, said, "Stephen distilled the powerful bonds we have with our pets to reveal the pure wonder and beauty of these relationships.
Cambridge, MA (PRWEB) September 20, 2012
Trajectory, Inc. today announced the digital 1st edition of Sally Discovers Dog Mountain by New York Times bestselling author and artist Stephen Huneck. This new original story has been designed and packaged to be read and played on Barnes and Noble NOOK tablets. Sally Discovers Dog Mountain, a 'first to digital' work, is the first title in the "Sally Discovery Series" and the ninth title in the award-winning Sally Series and is available today for download as a Read-to-Me eBook at Barnes and Noble.
Sally Discovers Dog Mountain is so much fun to read and listen with Sally, the adventurous Labrador retriever, seeking friendship and excitement all over Dog Mountain. There is never a dull moment for Sally and her friends, they take a swim, chase a ball, discover a bear and find out where the secret door will lead you. Told from a dog's point of view and illustrated with Huneck's original woodcut prints, this charming and delightful story will entice you to visit Dog Mountain in the Northeast Kingdom of Vermont. This new Sally Discovery tale will inspire dog lovers and readers of all ages.
Patrick Leahy, a Vermonter, the state's senior U.S. senator and a longtime friend of Stephen Huneck, said, "Stephen distilled the powerful bonds we have with our pets to reveal the pure wonder and beauty of these relationships. We all try to guess about the inner lives of the animals around us. Stephen seems to have figured it out."
Published for the first time digitally, Sally Discovers Dog Mountain incorporates Huneck's inimitable style; humor and his infectious love of dogs live on in the irresistible Sally. Amanda McDermott from Dog Mountain narrates the story. Amanda worked side by side with Stephen and continues to work together with Gwen Huneck at Dog Mountain. This Digital 1st Edition is the first title in the new Sally Discovers Series.
Features and applications of the NOOK ebook include:

Brilliant woodcut art images.
Full color, high quality artwork by renowned artist Stephen Huneck.
Read to Me – designed to read a page at a time with audio narration.
Read by Myself – designed to be read in the customary book form.
Jim Bryant, Trajectory CEO said, "Stephen Huneck's art has a unique way of reaching children and adults alike through a combination of wonder, discovery and humor. Sally's adventures continue."
"Sally Discovers Dog Mountain" depicts one of the most delightful aspects of Dog Mountain, which is watching dogs from all over the country meet one another for the first time. They instantly make friends and go off and play. Their joy is contagious. said Gwendolyn Huneck.
Stephen Huneck was an internationally acclaimed painter, sculptor and printer as well as the creator of the Dog Chapel in St. Johnsbury, VT, where he lived. In 1994 Huneck suffered from Adult Respiratory Distress Syndrome after falling down a flight of stairs, leaving him in a coma for two months. The accident eventually led Huneck to make his segue into children's books, using his black Lab named Sally as inspiration for his first title: "My Dog's Brain". Huneck went on to write six more children's books based around Sally, including the New York Times Best-seller Sally Goes to the Beach.
About Stephen Huneck
Stephen created the Dog Chapel, his largest and most ambitious piece of artwork, Stephen Huneck Gallery and workshop on Dog Mountain near his home in St. Johnsbury, Vermont. Dog Mountain continues to be an annual place of refuge for dogs, dog lovers, and art fans alike. The chapel and gallery are open daily as are the miles of trails. His hand-carved furniture, sculpture, and woodcut prints are included in the White House Collection of the Smithsonian Institution, the collections of the American Kennel Club Library and the Museum of Folk Art, and many other prestigious museum and private collections.
"I believe art should be an integral part of life. I try to give my work an almost magical energy that makes the viewer feel good."

About Trajectory, Inc.
Trajectory is a Cambridge, MA based technology and marketing oriented publishing company that collaborates with leading authors, artists, and traditional publishers. Trajectory has over 130 eBooks and apps available worldwide from Amazon, Apple, Barnes and Noble, Bokus, Chapters Indigo, Google play, Kalahari, Kobo Books, Tescoe Books, Whitcoulls, and W.H. Smith. Trajectory titles may be viewed on; Android tablets and smartphones, Amazon Kindle Fire, Apple IPad, iPhone and iPod touch, Barnes and Noble NOOK Tablet and NOOK Color, Google Nexus 7, Kobo Vox Reader, Motorola CLIQ and DroidX, and Samsung Galaxy Tab. Become a fan of Trajectory on Facebook.
Additional titles in the New York Times best selling Sally Series include: Sally Goes to the Beach, Sally Goes to the Farm, Sally Goes to the Mountains, Sally Goes to the Vet, Sally Gets a Job, Sally's Snow Adventure, Sally's Great Balloon Adventure, and Sally Goes to Heaven and are available at a bookstore near you or online at Barnes and Noble. Notable Sally Series awards include: Parents Choice Silver Award Winner, New York Times Best Seller, Child Magazine Best Books, Smithsonian Notable Book, and Society of Illustrators Silver Award Winner.
Press Contacts: Deborah Beatty, Trajectory, Inc. (617) 564-1550
One Broadway – 17th floor, Cambridge, MA 02141 media(at)trajectory(dot)com