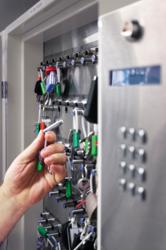 Orlando, FL (PRWEB) January 15, 2013
Traka, a global developer of intelligent access control and key management systems, will serve as a sponsor and join other industry leaders to influence the future of security operations at The Great Conversation during the 2013 ASG Security Summit & Expo in Seattle.
Along with Traka and a number of other leaders in the industry, 2013 marks a year of expansion for the expo. The growth of the upcoming event allows it to serve as a resource for future leaders of the security industry to receive unique training and career opportunities.
Traka has been a world industry leader in security risk mitigation for years, with innovative technology and sophisticated access control. The company's key management systems, intelligent lockers and more have helped advance security risk mitigation and organizational resilience for companies all over the world.
With its role as a sponsor for The Great Conversation, Traka is looking to help other companies in the industry make crucial advancements in securing assets and intellectual property. The combination of so many industry pioneers will allow for strong progress, planning and a bright future for companies in asset protection and security.
The Great Conversation is a one-day event to be held March 5, 2013 during the ASG Security Summit & Expo, where leaders in security risk mitigation and organizational resilience meet to advance industry issues, strategies and leadership. The long list of exhibitors on hand also allows for the opportunity to influence new products and implementing them as solutions for the security industry.
---
About Traka
Traka is an intelligent access technology developer that uses database-driven electronic key systems for monitoring and recording human access and usage to virtually any physical asset—such as buildings, vehicles, tools, datacenter racks or equipment. Traka's intelligent key technology and equipment access management offers an efficient electronic control system for protecting important corporate assets and improving operational efficiency, while reducing risk factors, potential losses and management costs. Traka's US headquarters are based in Longwood, Florida.
To learn more about Traka and its products in the US market, please visit http://www.trakausa.com.