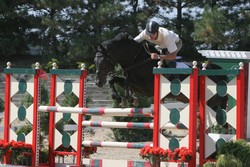 Newark, OH (Vocus) December 29, 2009
The American Trakehner Association (ATA) is pleased to announce that bidding for the 2010 ATA Stallion Service Auction (SSA) will begin January 1, 2010. Over 40 of the countries top stallions are participating in the event, including Olympic medalist, Abdullah *Pg*E*. This is the perfect opportunity to ring in the New Year with a discounted breeding to a versatile Trakehner horse.
Anyone who has registered to bid in a previous SSA Auction does not need to re-register for the 2010 event. Participants may bid online or via mail. Online bidding ends on February 14 at 12 p.m. EST. Bids sent in by mail should be postmarked by February 1. The minimum starting bid for each stallion is $500. Bidding will increase in $50 increments thereafter.
All foals resulting from SSA breedings are eligible for the ATA Awards programs and ATA Futurity - which have paid out over $500,000 to date.
For detailed information on participating stallions, visit http://www.americantrakehner.com. For further information on ancillary breeding costs, call the phone number listed next to each stallion's name before you place your bid. Some stallion owners may require booking fees and/or deposits for shipping containers, stallion collection, mare care or shipping prior to breeding your mare. Please note that any such fees associated with the purchase of any of the donated breedings are the responsibility of the mare owner. This information (if provided to the ATA by the Stallion Owner) will be listed in the stallion information area under Fees/Contracts on individual stallion pages. If that information is missing, you MUST contact the owner. Make sure you understand any associated fees required by the stallion owner as all winning bids in the ATA SSA are non-refundable.
For more information or if you have any questions regarding the auction, contact the ATA Office at 740-344-1111.
The American Trakehner Association (ATA) was established in 1974 as a non-profit association of breeders, owners, and friends for the promotion and preservation, in the Western Hemisphere, of the warmblood horse of Trakehner origin. The ATA serves a number of purposes including:

Maintaining a public registry of Trakehner horses.
Marking and branding approved stallions, mares and foals with the Association's corporate seal.
Disseminating information to breeders, owners and friends pertaining to the breeding and raising of
Trakehner horses.

Promoting the performance of the Trakehner horse in dressage, three-day eventing, hunting, jumping, driving and other sporting disciplines.
Encouraging a public understanding of the Trakehner horse, its breeding and performance.
For more information on the American Trakehner Association visit http://www.americantrakehner.com.
###