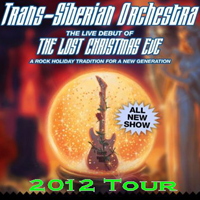 Find Trans-Siberian Orchestra Tickets for The Lost Christmas Eve Winter Tour now to lock in the Best Seats.
(PRWEB) November 15, 2012
Find Trans-Siberian Orchestra Tickets now while the Best Seats are still available. For the first time ever, Trans-Siberian Orchestra will be performing their acclaimed rock opera, "The Lost Christmas Eve" live! Join TSO this winter for the exciting on-stage premiere of "The Lost Christmas Eve," a heart-warming story of loss and redemption on a magical Christmas Eve in New York City. TSO is an American progressive rock band founded in 1993 by producer, composer Paul O'Neill, who brought together Jon Oliva and Al Pitrelli (both members of Savatage) and keyboard player Robert Kinkel to form TSO. Since then, TSO has sold more than 9 million concert tickets and over 8 million albums.
The band incorporates classical, orchestral, symphonic and progressive elements into hard rock and heavy metal. The band has released a series of rock operas: Christmas Eve and Other Stories, The Christmas Attic, Beethoven's Last Night, The Christmas Eve and Night Castle. Trans-Siberian Orchestra is also known for their charity work and elaborate concerts, which include a string section, a light show, laser show and pyrotechnics. These rock operas, collectively known as the "Christmas Trilogy", remain their best-selling and most famous works. Both Billboard Magazine and Pollstar have ranked TSO as one of the top ticket selling bands.
On October 30, 2012, Trans-Siberian orchestra released a new 5 song CD titled "Dreams of Fireflies (On a Christmas Night)" on Lava Republic Universal Records. The 2012 Spring tour featured "Beethoven's Last Night". Their 2012 Winter tour, sponsored by the Hallmark Channel will feature "The Lost Christmas Eve".
Trans-Siberian Orchestra first toured in 1999, performing a handful of concerts in New York City, Cleveland, Chicago and Detroit. The following year, 2 touring groups were formed allowing TSO to cover more ground in the short time frame allows the band to perform the Holiday Rock Concerts in November and December nationwide.
Beginning with the 2012 tour, the first act is a narrated performance of most of the songs from The Lost Christmas Eve. In the second act, TSO performs a mix of songs from their other albums.
In March 2011 the band had its first tour in Europe. If you have had the opportunity to see The Lost Christmas Eve video on PBS, the live performance cannot be missed. eCityTickets.com specializes in those hard to find, close up seats. Find Trans-Siberian Orchestra Tickets now to lock in the best seats.