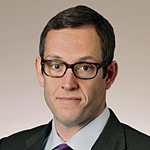 Albany, NY (PRWEB) June 21, 2011
Iseman, Cunningham, Riester & Hyde, LLP, is pleased to announce that Joshua E. Mackey, a partner in the firm, has been designated as a New York state chair for the prestigious Council on Litigation Management (CLM). The state chair position is a leadership role within CLM, and those serving in the role assist in the development and growth of the Council, foster local communications, and provide more opportunities for members to participate in the organization. State chairs also establish and monitor CLM strategic affiliations for state and local organizations and associations.
CLM is a nonpartisan alliance comprised of thousands of insurance companies, corporations, corporate counsel, litigation and risk managers, claims professionals and attorneys. Through education and collaboration, the organization's goals are to create a common interest in the representation of companies by law firms, and to promote and further the highest standards of litigation management in pursuit of client defense. Membership for selected attorneys and law firms is by invitation only, and is based on nominations from CLM fellows.
Head of the Insurance Defense practice group for Iseman, Cunningham, Riester & Hyde, LLP, Josh concentrates his practice in litigation, primarily insurance-related matters involving fraud, coverage, breach of contract, subrogation and negligence. He also handles bankruptcy and general litigation matters, and has advised clients on land use issues, as well as matters relating to liquor licensing and compliance. Josh has extensive experience in insurance fraud prevention, investigation, and defense. He has handled a variety of legal matters involving allegations of fraud, including arson, automobile insurance claims, medical claims, property theft, insurance agent misconduct and bankruptcy fraud. He has conducted training for major insurance carriers and Fortune 500 companies, as well as continuing legal education classes for attorneys as a lecturer for Lorman Education Services.
In addition to his work with CLM, Josh is also president of the New York State chapter of the National Society of Professional Insurance Investigators (NSPII) and the New York State chapter of Special Investigation Units (SIU), and is a member of the Defense Research Institute.
About Iseman, Cunningham, Riester & Hyde, LLP:
Iseman, Cunningham, Riester & Hyde has a seasoned team of transactional and trial lawyers committed to serving clients with effective, efficient legal representation. The firm's attorneys provide the same service they would expect to receive if they were the client. Iseman, Cunningham, Riester & Hyde combines the broad perspective of generalists with skill in the firm's respective fields. Although they prefer cooperation, the firm is ready to aggressively represent clients' interests in court, when necessary.
The firm's mission is simple and straightforward: to diligently and effectively represent and protect a client's interests while adhering to the highest standards of ethics, integrity and professionalism. The firm accomplishes this by offering the level of professional skill and sophistication found in the country's largest law firms, with the personal service clients can receive only from a small firm.
###