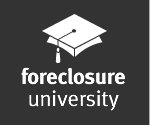 We think this is a great opportunity for us to help out other investors who need money to close deals
Salt Lake City, UT (PRWEB) October 02, 2012
Foreclosure University announces today that they are providing transactional funding for investors. "We think this is a great opportunity for us to help out other investors who need money to close deals," says Jarad Severe of Foreclosure University.
Although many things have changed in the real estate world, there are a few things that remain consistent. And one of those things is the need for cash when wholesaling or turning properties for a profit. That's why many are turning to transactional funding when doing these kinds of deals.
Today, banks want want to see funds from the investors account in order to close. And without proof of these funds, the investor is out of the game. Gone are the days when this could be done using the end buyers money to fund the transaction between the investor and the bank.
The investor needed a quick way to satisfy the requirements of the bank while keeping costs low enough to not eat away all the profits. Transactional funding is one of the ways in which investors are able to get cash quickly to close on a deal with the bank and then quickly turn around and sell the property to an end buyer.
Transactional funding has become extremely popular among investors because of the low cost, low risk of using it and how effective it is when performing a transaction with the bank. It's also very attractive for many beginning investors because it doesn't require any credit checks or income verifications. This is because it's not a loan, rather a short term use of a 3rd parties money.
Here's how it works. Investor finds a good deal on an REO property. He makes an offer to the bank which is accepted. He also has an end buyer that wants to buy the property. In order for him to close with the bank and sell to the end buyer, he must use his own money to close. This is where transactional funding comes in. The funds are used in the transaction with the bank and then the end buyers funds are used immediately after to pay back the transactional funding partner. Everyone is satisfied and walks away happy.
Although there are several groups that offer transactional funding, not all transactional funding is the same. There are different fees and requirements associated with each so it's important to do research and know everything before jumping in.
For a more information on transactional funding click here.
Those looking to get transactional funding need to visit http://www.ForeclosureUniversity.com