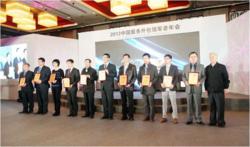 transcosmos offers mainly call center service and digital marketing service for the China market and BPO services such as back-office and data-entry services, development service, and design support service.
Tokyo, Japan (PRWEB) April 24, 2013
transcosmos inc. (Headquarters: Tokyo, Japan; President and COO: Masataka Okuda; TSE First Section: 9715; hereafter, transcosmos) has been ranked third in "BPO TOP20" which selects excellent companies among those in BPO business in China for the year of 2012. transcosmos' seven subsidiaries entered as transcosmos Group and became the first Japanese company to be selected.
"BPO TOP20" is co-hosted by Devott Service Outsourcing Research Center, which is a research institution of Tianjin Devott, an international consulting company which specializes in outsourcing and provides the most influential research reports in the industry and one of China's largest international portal website "China Sourcing" and has been held since 2010. The judging committee consists of well-known research institutions in China and from other countries, experts, researchers, leaders and research specialists of the industry, corporate investment experts, and overseas outsourcers. The companies are judged based upon the five areas: Operations, growth, specialty, development, and technology innovations.
The highest-ranking companies include China Date Group (China's largest BPO company), Neusoft (a listed company in NYSE), and is a prestigious contest that serves as an important indicator for the Chinese outsourcing industry.
transcosmos has been expanding its scope of business and number of sites ever since its expansion into the China market in 1995. Currently, transcosmos offers mainly call center service and digital marketing service for the China market and BPO services such as back-office and data-entry services, development service, and design support service. This award is a result of high evaluations received for its variety of service menu and speed of business development, growth, renovations such as process, management methods, technology, and business models, receiving the highest level of 5 for CMMI, the degree of maturity of software development process, ICS9001, which is the international standard for quality management, and ICO27001, an international standard for information security management.
Award ceremony held at (the general assembly in) Bin Hai Xin Qu, Tianjin, China on March 22.
Pictured second from the right: Zhang Yu Director, transcosmos CC China.
transcosmos Group companies (only those who made entries)

transcosmos information creative [IT System Development]
transcosmos information system (Shanghai) [Document solutions]
transcosmos Design Development China [CAD Design, Business Solutions]
transcosmos CC China [Call Center]
transcosmos information system (Benxi) [Document solutions]
01COSMOS [Digital marketing]
transcosmos BPO China [Business solutions]
transcosmos Group aims at providing the same quality of service in the overseas market as it does in Japan and has expanded its business mainly in China and South Korea. In the future, the Group has plans to expand its market into ASEAN and Europe/U.S. to pursue its call center business as well as other businesses and human resources development with EC services. With the goal of becoming the "global IT partner," transcosmos Group will make every effort to create valuable services to its corporate clients.
transcosmos is a registered trade name or trademark of transcosmos inc. in Japan and other countries.
Other company names and product or service names mentioned are registered trade names or trademarks of various other companies.
About transcosmos inc.
transcosmos launched operations in 1966. Since then it has combined superior "human resources" with the most up-to-date "technological" capabilities to enhance the competitive strength of its corporate clients by providing them with high value added and superior services. It provides overall IT outsourcing services such as Call Center Services, Business Process Outsourcing Services, and Digital Marketing Services either as standalone solution or as combined services to its corporate clients to optimize their marketing efficiencies, to expand sales and gain new customers in EC business, and to reduce clients operational cost. Further, these services have been expanded beyond Japan, globally, centered in Asia. transcosmos aims to be the "Global IT Partner" of its corporate clients to provide them with high quality outsourcing services on a global scale.
Contact for news media inquiries
Inquiries from the media should be forwarded to transcosmos inc.
Public Relations & Advertising Department
Mail: pressroom(at)trans-cosmos(dot)co.jp