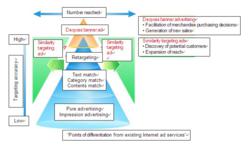 "deqwas.DSP" maximizing internet advertising effectiveness
Tokyo, Japan (PRWEB) October 10, 2012
transcosmos inc. (Headquarters: Tokyo, Japan; President and COO: Masataka Okuda; TSE First
Section: 9715; hereafter, transcosmos) has agreed to undertake exclusive distribution of the "deqwas.DSP" advertising platform offered by Kyocera Communication Systems Co., Ltd. (Headquarters: Fushimi Ward, Kyoto; President: Setsuo Sasaki; hereafter, KCCS).
Compared with conventional mass advertising, the cost-effectiveness (ROI) of Internet advertising is definitive, and its market is steadily expanding as an advertising medium that is easily linked with attributes such as attracting customers and generating sales. In addition, with the development of Internet advertising delivery technology, it is not only possible to distribute to an unspecified number of consumers through the selection of a posting section, but by using a RTB (Real Time Bidding) mechanism it has become possible to sort out consumers receiving a message in real time and then deliver content tailored to areas of interest and concern for each consumer. It is anticipated that this will have a further direct impact on business management.
"deqwas.DSP" is an advertising platform linked with the "deqwas" discovery engine of Scigineer, Inc. (Headquarters: Shinagawa Ward, Tokyo; CEO: Shinichiro Ishii; hereafter, Scigineer), which applies analysis technology based on complex network theory to enable highly effective advertisement delivery. KCCS jointly conducted development with Scigineer and began offering the platform on September 7, 2012. As a result of acquiring the exclusive distribution rights for "deqwas.DSP" transcosmos is not limited to mere distribution, but by working together with KCCS it is now able to directly reflect the demands of customers in areas such as the addition of functions, outcome analysis and improvement of functions. In addition, we expect to offer even more effective DSP by introducing know-how from the realm of transcosmos' unique ad technology into the feature development of "deqwas.DSP."
The features of "deqwas.DSP" are described below.
1."Similarity targeting ads" to pick out potential customers and promote visits to a company's website
Retargeting ads, which are said to have a high degree of delivery accuracy, faced the challenge of being limited in the number of potential deliveries in that they constitute an advertising delivery technique for reaching customers who have previously visited a site. Similarity targeting ads expand the range of delivery targets through retargeting and efficiently induce visits to a company's website. They find potential customers who exhibit behavior characteristics corresponding to the interests and concerns of existing customers, and then deliver advertising by filtering the delivery targets through RTB.
2."Deqwas banner advertising" personalized according to individual interests and concerns
The ability to handle a vast array of different products is an advantage of the Internet, but it has been difficult to deliver the most relevant advertising for the needs of each customer. With deqwas banner advertising, items are selected which automatically draw the interest of a customer from among the items (merchandise, contents, etc.) handled on an advertiser's website, and appropriate advertising personalized for the customer is then delivered. Merchandise purchasing decisions are facilitated by analyzing the associations among various products and recommending merchandise suited to the customer's needs, and by also advertising unexpected merchandise that "was unknown" or "could not be found" previously, latent needs are stimulated and new sales are generated.
・Please access the following link for news releases from Kyocera Communication Systems Co., Ltd. and Scigineer, Inc.
http://www.kccs.co.jp/press/release/120907.html
・Please see the home page of Kyocera Communication Systems Co., Ltd. for service details.
transcosmos provides a multitude of services to optimize points of customer contact for client companies, and these services are offered either individually or in combination based on the demands of our clients. In the future we will continue striving to provide services that contribute to the expansion of sales for our client companies.

transcosmos is a registered trade name or trademark of transcosmos inc. in Japan and other countries.
Other company names and product or service names mentioned are registered trade names or trademarks of various other companies.
About transcosmos inc.
transcosmos launched operations in 1966 as a pioneer in the information processing outsourcing business. Since then it has combined superior "human resources" with the most up-to-date "technological" capabilities to enhance the competitive strength of its corporate clients by providing them with high value added and superior services. It provides overall IT outsourcing services such as call center services, business process outsourcing services, business process solution services, and digital marketing services either as standalone solutions or as combined services to its corporate clients to optimize their marketing efficiencies, to expand sales and gain new customers. Further, these services have been expanded beyond Japan, globally, centered in Asia. transcosmos aims to be the "Global IT Partner" of its corporate clients to provide them with high quality outsourcing services on a global scale.