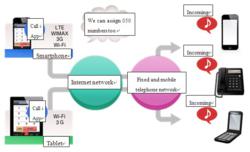 transcosmos reduce calling costs and improved customer satisfaction by providing IP phone application.
Tokyo, Japan (PRWEB) April 23, 2013
transcosmos inc. (Headquarters: Tokyo, Japan; President and COO: Masataka Okuda; TSE First Section: 9715; hereafter, transcosmos) and Evixar Japan, Inc. (Headquarters: Tokyo, Japan; President: Atsushi Takigawa; hereafter, Evixar) have begun offering the IP telephone solution "transcosmos IP Phone" (with the Evixar SIP server and SIP softphone SDK) for both iPhone and Android devices as of April 5, 2013. transcosmos will contribute to reduced calling costs and improved customer satisfaction for clients by providing low-cost IP phone application development.
IP telephone is a service which makes it possible to use the telephone at calling rates that are less expensive than conventional general subscriber telephone calling charges by converting voice signals into packet data and transmitting this data through an Internet network. As the change to IP for conventional telephones in homes and businesses has progressed due to the spread of optical lines, even in the field of mobile phones high-speed data transmission such as LTE and Wi-Fi has also increased quickly due to the rapid spread of smartphones, and users of IP telephone applications for smart phones have also increased.
"transcosmos IP Phone" provides a mechanism that is able to respond flexibly to the needs of our corporate clients. It is of course possible to develop toll-free calling applications from scratch for a corporate client, and it is also possible to incorporate a toll-free calling function within an application that a corporate client has already distributed. In addition, since it is possible to create 050 numbers, it is also possible to call and receive calls from other telephones, including conventional land line and mobile phones that have not downloaded the application. With the keywords of "stability," "high-quality" and "24 hours a day, 365 days a year," transcosmos IP Phone provides higher quality IP phone solutions than ever before at a lower cost.
Furthermore, the independently developed audio compression technology "KOGSM system" (to improve the sound quality of the conventional GSM system) is included as a standard feature. The use of this compression technology provides sound quality which is indistinguishable from that of a normal mobile phone. This remedies the problem seen in conventional IP phone applications where call center operators were difficult to hear, and it achieves high-quality voice calls even in areas where radio wave band frequencies are weak.
The "transcosmos IP Phone" service menu is shown below.
1) "IP Phone for Call Centers" for client companies that want to reduce the operational costs of call centers

By providing a call center contact button within the application, users will not incur calling charges when contacting a call center. In addition, for client companies that have set up terminals to receive toll-free calls from mobile phones, it will be possible to reduce the charges incurred in the past for the calls received.
2) "IP Phone Standard" for client companies that want to retain smartphone users and improve customer satisfaction

A company can develop its own IP telephone applications and distribute them to users for toll-free calling between applications.
3) "IP Phone + 050 Number" for client companies that want to reduce internal company calling costs

With the introduction of an IP telephone application that accommodates BYOD (Bring Your Own Device) for employee-owned smartphones, calls between employees become toll-free and reduced calling costs can be achieved. Moreover, it is also possible to reduce the cost of calls coming from outside the same application by creating 050 numbers.
"transcosmos IP Phone" guarantees high-quality sound and concurrent connection of 30 lines, which are features not found in conventional IP phone applications. Furthermore, it is also possible to provide both a redundant server configuration and operation monitoring 24 hours a day, 365 days a year in order for corporate clients to use the system with confidence as their communication infrastructure. In addition, features that previously were expensive options in conventional PBX systems, such as "Voice Navigation," "Interactive Voice Response" and "Voice Mail," are included as standard features.
Offer Prices (Reference)

Unlimited toll-free call center service: From ¥30,000 per month for each line
BYOD service: From ¥500 per month for each line (differs depending on content)
Service delivery illustration
While delivering "transcosmos IP Phone," transcosmos provides a sales contact, solutions development and audio compression technology. Evixar provides the server-side solutions and base applications.
About Evixar Japan, Inc.
The company provides IP-PBX solutions and remote control solutions, including the development of video, audio and image fingerprinting technology, audio watermarking and the SIP softphone "Chiffon."
Evixar performs flexible customization according to the needs of the client's business strategy in order to provide more practical solutions
About transcosmos inc.
transcosmos launched operations in 1966. Since then it has combined superior "human resources" with the most up-to-date "technological" capabilities to enhance the competitive strength of its corporate clients by providing them with high value added and superior services. It provides overall IT outsourcing services such as Call Center Services, Business Process Outsourcing Services, and Digital Marketing Services either as standalone solution or as combined services to its corporate clients to optimize their marketing efficiencies, to expand sales and gain new customers in EC business, and to reduce clients operational cost. Further, these services have been expanded beyond Japan, globally, centered in Asia. transcosmos aims to be the "Global IT Partner" of its corporate clients to provide them with high quality outsourcing services on a global scale.
Contact for news media inquiries
Inquiries from the media should be forwarded to transcosmos inc.
Public Relations & Advertising Department
Mail: pressroom(at)trans-cosmos(dot)co(dot)jp