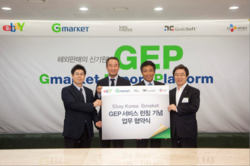 transcosmos Korea provides EC Support service in cooperation with Gmarket(eBay Group), the largest online shopping mall in South Korea
(PRWEB) October 04, 2012
transcosmos Korea Inc. (Headquarters: Seoul, Korea; President and COO: Takashi Sube; hereafter, transcosmos Korea), a subsidiary of transcosmos inc. (Headquarters: Tokyo, Japan; President and COO: Masataka Okuda; TSE First Section: 9715; hereafter, transcosmos) which mainly provides call center services in South Korea, is to launch full-scale digital marketing businesses for the domestic South Korean market. Its digital marketing division, established in June 2012, equipped with means to provide website creation and Internet advertising services, has been added a new EC support service system in September 2012.
The Internet shopping market in South Korea amounted to W31.8 trillion Won in 2011, 116% growth compared to the previous year, and the figures in 2012 are expected to grow up to 36.1trillion Won (114% compared to the previous year), indicating further growth. (Sources: Korea Online Shopping Association - KOLSA)
Aiming at providing services of the equal quality and standards as those provided in the Japanese domestic market to the overseas markets, transcosmos entered the Korean market in Year 2000. Since then, with its abundant business experience and management know-how and excellent client base in Japan, transcosmos has been providing services accommodating the local Korean market conditions. Currently, transcosmos Korea provides call center business, direct mail business, field service business, among others, to over 100 major corporation in South Korea. From now on, with the digital marketing business added to the mix, transcosmos Korea will be capable of providing IT outsourcing services in the various channels to optimize the interactions between our client corporations and their customers.

Building EC support service system to support overseas sales activities of the eBay Group
In addition, starting in September 2012, transcosmos Korea has built an EC support service system to start digital marketing business in full-scale. It is expected to expand in the future, and in the South Korean EC market with a high demand from the vendors for overseas business expansion, transcosmos Korea will provide a one-stop service from building EC sites, providing promotion for attracting customers, providing a customer service window for receiving orders, to providing after-purchase support services.
On August 29, 2012, in cooperation with Gmarket(eBay Group), the largest online shopping mall in South Korea, transcosmos Korea announced its launching of the export support business for the overseas market. It was made possible to purchase the products on Gmarket from any eBay platform from all over the world. And transcosmos Korea will be providing product registration on the overseas shopping websites, order management, and customer services in the local languages.
transcosmos Korea's sales goal for FY2016 in the area of digital marketing business is 30 Billion Won.
transcosmos Korea Company Profile
Company Name: transcosmos Korea Inc.
Officer: Takashi Sube, President & COO
Date of Establishment: May 22, 2001
Headquarters: Yongsan Bldg.,44-3,Hangang-ro 2, Yongsan-Gu, Seoul, Korea
Capital: W5.3 billion Won
Number of Employees: 6,000
Businesses: Call center business, direct mail business, filed service business, digital marketing business
*transcosmos is a registered trade name or trademark of transcosmos inc. in Japan and other countries.
*Other company names and product or service names mentioned are registered trade names or trademarks of various other companies.
About transcosmos inc.
transcosmos launched operations in 1966 as a pioneer in the information processing outsourcing business. Since then it has combined superior "human resources" with the most up-to-date "technological" capabilities to enhance the competitive strength of its corporate clients by roviding them with high value added and superior services. It provides overall IT outsourcing services such as call center services, business process outsourcing services, business process solution services, and digital marketing services either as standalone solutions or as combined services to its corporate clients to optimize their marketing efficiencies, to expand sales and gain new customers. Further, these services have been expanded beyond Japan, globally, centered in Asia. transcosmos aims to be the "Global IT Partner" of its corporate clients to provide them with high quality outsourcing services on a global scale