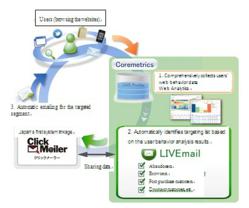 The marketing Chain Management Company
(PRWEB) August 09, 2012
transcosmos inc. (Head Office: Shibuya-ku, Tokyo; President and COO: Masataka Okuda; Securities Code: 9715; hereinafter "transcosmos") has linked its e-mail marketing solution ClickM@iler with IBM® Coremetrics Digital Marketing Optimization Suite (hereinafter "Coremetrics") to start providing IBM Coremetrics LIVEmail, an automatic e-mailing system for targeted customer segments based on behavior. This is the first time for Coremetrics to provide automatic e-mailing system in the Japan market, and ClickM@iler has become Japan's first system-linked e-mail solution.
Coremetrics LIVEmail is a function to personalize automatic e-mail system based on the users' behavior history data collected and analyzed by web marketing optimization solution "Coremetrics." Now linked with ClickM@iler, the process of determining and setting the e-mail target segment, which is otherwise cumbersome, is automated, and by using the most effective best practice segment (abandoners, browsers, post purchase, and dormant customers), immediate retargeting is possible, improving performance.
In addition, by measuring the effectiveness of the e-mail by Coremetrics, cross-analysis is possible between click-throughs, conversion rate, revenue impact, visitors' page views through e-mail links, and site paths tied up with customer information and purchase history already accumulated by Coremetrics. Through this, a more highly-relevant segment can be targeted based on customers' purchase recency, frequency, browsing patterns, and life cycles.

Characteristics of Coremetrics LIVEmail
With simple setting from Coremetrics' UI, it can easily be linked with ClickM@iler to manage targeting e-mail and its analysis.
It automatically identifies the target segment utilizing detailed history data of the customers' behaviors. By providing the target customers highly related contents, the open rate, click-through, and conversion are improved.
With the basic best practice program on hand, immediate e-mail re-targeting is possible.
Targeted e-mail promotion can be created based on the customers' preferences for certain products.
Coremetrics LIVEmail fees
To use Coremetrics LIVEmail, basic ad optional fees incur for both Coremetrics and ClickM@iler. Please inquire with our sales department for details.
About IBM Coremetrics Digital Marketing Optimization Suite, an online-marketing optimization solution (URL:http://www.core-metrics.jp)
Coremetrics is SaaS (service-type software) online marketing optimization solution. It is used by over 2,400 brands world-wide. It enables companies to optimize their marketing programs continuously and provides support to make all the provided contents the best they can be automatically. Coremetrics is the industry's only analytical platform designed to link information across the multiple channels to optimize and automate of online marketing by linking recommend solution creating recommended product information, e-mailing solution, and banner advertisement solution. In Japan, transcosmos is the first certified partner responsible for sales of Coremetrics.
transcosmos' e-mail marketing solution ClickM@iler is fully equipped with useful functions essential for communicating with customers, such as easy operations with the "calendar-style e-mail management screen," "e-mail magazine registration form" and "e-mailing with your own company's domain name," and "cross analysis" between e-mail effectiveness and categories. With careful consideration for security management with "setting operational authorities per function" and "setting for access for personal information," we provide strong support for corporate e-mail marketing efforts. While the installable software ClickM@iler could build an order-made e-mail system linked with an existing customer data base, SaaS service ClickM@iler enables users to save costs and launch e-mail marketing with ease. In addition, we provide exclusive e-mail system set-up, operation, and management services through private cloud to accommodate individual customization, allowing user companies to select usage format depending on their needs and business styles.
transcosmos is a registered trade name or trademark of transcosmos inc. in Japan and other countries.
Other company names and product or service names mentioned are registered trade names or trademarks of various other companies.
(About transcosmos inc.)
transcosmos launched operations in 1966 as a pioneer in the information processing outsourcing business. Since then it has combined superior "human resources" with the most up-to-date "technological" capabilities to enhance the competitive strength of its corporate clients by providing them with high value added and superior services. It provides overall IT outsourcing services such as call center services, business process outsourcing services, business process solution services, and digital marketing services either as standalone solutions or as combined services to its corporate clients to optimize their marketing efficiencies, to expand sales and gain new customers. Further, these services have been expanded beyond Japan, globally, centered in Asia. transcosmos aims to be the "Global IT Partner" of its corporate clients to provide them with high quality outsourcing services on a global scale. (URL: http://www.trans-cosmos.co.jp)