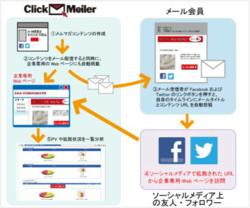 (PRWEB) August 18, 2012
transcosmos inc. (Headquarters: Shibuya Ward, Tokyo; President and COO: Masataka Okuda; Securities code: 9715; hereafter, transcosmos) is implementing "social media linking functions" which allow an e-mail subscriber to post e-mail contents on their own Facebook and Twitter timelines as a new feature of the ClickM@iler e-mail marketing solution. Currently, a priority implementation has been carried out for some client companies using the SaaS version of ClickM@iler, and the official release across all services including the software version of ClickM@iler is scheduled for October of 2012.
In order to enhance the connection between Facebook (16.08 million users*) and Twitter (13.47 million users*), with their rapidly expanding base of users, and the e-mail newsletters sent out by businesses, it will be possible to set up link buttons for Facebook and Twitter within the text of e-mails delivered by ClickM@iler. By clicking these link buttons and simply logging-in to Facebook and Twitter, subscribers will be able to post a URL for a webpage that includes the subject and content of the received e-mail into their own account timelines. This webpage comprises a unique dedicated website for the client company in which the e-mail contents created and delivered by ClickM@iler are automatically posted and archived. This will allow easy sharing of information on Facebook and Twitter with others such as friends and followers, and will also make it easy to circulate the contents of e-mail newsletters.

Number of visitors in one month, based on the June 2012 Nielsen Survey
By crossing e-mail newsletters which are able to reach specific customers with the circulation power and interactivity of the social media, businesses will be able to propagate information that they want to convey effectively, quickly and over a wider range.
In addition, it is of course possible to measure parameters including the opening and click ratios for e-mail newsletters, but is is also possible to measure things such as the number of shares and tweets, as well as the number of new visitors accessing the client company's dedicated webpage via Facebook and Twitter, and the circulation status of information originating from the e-mail newsletter can be confirmed in real time.
■ClickM@iler Social Media Linking Functions
•Setting up link buttons for Facebook and Twitter
•Automatic posting and archiving of e-mail contents to a dedicated webpage for the client company
•Posting of the e-mail subject and the URL for the client company's webpage to the Facebook and Twitter accounts of the e-mail subscriber
•Real time analysis of the circulation status for information originating from the e-mail newsletter
Cost: Free of charge
(For customization of the dedicated client webpage, there is an initial cost starting at ¥50,000 and a monthly charge starting at ¥10,000)
■ About the ClickM@iler e-mail Marketing Solution (http://www.clickmailer.jp/)
The transcosmos e-mail marketing solution ClickM@iler is equipped with a full range of features essential for e-mail communication with customers, such as excellent operability with a "calendar format distribution control screen," "e-mail magazine registration form," "distribution within your own company's domain" and "cross analysis" of distribution results and attributes. Attention is also given to security management with features such as "operation authorization settings by function" and "personal information access authorization settings" for strong support of business e-mail marketing. The installed software version of ClickM@iler allows construction of an order made e-mail system by linking with an existing customer database, while the SaaS service version of ClickM@iler makes it possible to control costs and quickly start up e-mail marketing. In addition, services are also provided for construction, operation and management of a dedicated e-mail system on a private cloud arrangement which can also support individual customization and it is possible to select a utility configuration based on the e-mail marketing objectives and operational procedures of a user company.
Contact for news media inquiries
Inquiries from the media should be forwarded to transcosmos inc.
Public Relations & Advertising Department
Mail: pressroom (at) trans-cosmos (dot) co (dot) jp