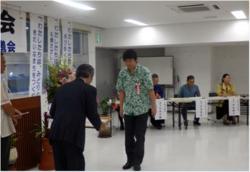 CRM Okinawa strives at becoming a corporation deeply rooted in the community
Okinawa City, Okinawa Prefecture (PRWEB) June 19, 2013
transcosmos CRM Okinawa Inc., (Head Office: Okinawa City, Okinawa Prefecture; President: Kenshi Matsubara; hereinafter, "CRM Okinawa") a wholly owned subsidiary of transcosmos inc. (Headquarters: Tokyo, Japan; President and COO: Masataka Okuda; TSE First Section: 9715; hereafter, transcosmos) which offers call center services in Okinawa Prefecture, has been awarded by Okinawa City Citizen's Charter Promotion Council for its contributions with on-going efforts to improve the community. The recognition is for the "environment beautification efforts" category.
The Okinawa City Citizen's Charter was established in 1974 in order to promote an amiable and pleasant community development. The Council consists of thirty organizations within the City including the City government and engages in five movements -- "environment beautification," "social welfare," "safety measures," "social education," and "culture and fitness," which are the goals of the Council. Every year, individuals and organizations are recognized for their efforts in improving the living conditions of their local community. In FY2012, 25 individuals and organizations received this honor.
CRM Okinawa's Activities
For the past four years, CRM Okinawa has donated costs for the hibiscus plants to the Hibiscus Festival hosted by an NPO, the City of Okinawa Athletic Association. In addition, its employees have actively devoted themselves to participate in the festival as volunteers for the beautification of Koza Sport Park's environment.
CRM Okinawa strives at becoming a corporation deeply rooted in the community by not limiting itself to internal efforts, but by actively participating in local events like beach clean-up and other activities as well. It will continue to work on various charitable and philanthropic activities in the future.

transcosmos is a registered trade name or trademark of transcosmos inc. in Japan and other countries.
Other company names and product or service names mentioned are registered trade names or trademarks of various other companies.
About transcosmos inc.
Since our establishment in 1966, we have combined superior "human resources" with the most up-to-date "technological" capabilities to enhance the competitive strength of its corporate clients by providing them with high value added and superior services. We provide overall IT outsourcing services such as Call Center Services, Business Process Outsourcing Services, and Digital Marketing Services either as standalone solution or as combined services to our corporate clients to optimize their marketing efficiencies, to expand sales, and to improve operational efficiency and reduce clients operational cost for back office and information system operations. Further, these services have been expanded beyond Japan, globally, centered in Asia. We aim to be the "Global IT Partner" of our corporate clients to provide them with high quality outsourcing services on a global scale.
Contact for news media inquiries
Inquiries from the media should be forwarded to transcosmos inc.
Public Relations & Advertising Department
Mail: pressroom(at)trans-cosmos(dot)co(dot)jp