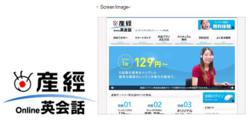 "Sankei Online English" - an online English instruction service using Skype
Tokyo, Japan (PRWEB) November 29, 2012
Sankei Digital Inc.(Headquarters: Tokyo, Japan; President: Tetsuji Kondo), Human Holdings Co., Ltd. (Headquarters: Tokyo, Japan; President: Tomoya Sato), and transcosmos inc. (Headquarters: Tokyo, Japan; President and COO: Masataka Okuda; TSE First Section: 9715) have jointly founded Sankei Human Learning Co.,Ltd.(Head Office: Tokyo, Japan; President: Teruyuki Kawakami; hereafter, Sankei Human), a joint venture company which offers online foreign language services, on July 24, 2012. "Sankei Online English", an English instruction service provided via Skype, has been pre-opened.
5 Highlights of Sankei Online English
1. One-on-one English instruction for 129 Yen per lesson (25 min.), with no material fee
Students could take lessons every day, for a very reasonable fee of 5,000 Yen per month and up. The fees are much more reasonable compared to classroom instructions. Original textbooks are provided free of charge, according to the level and objective of each student.
2. Suitable for busy people with instructions available early in the morning and late at night; reservations accepted until 30 minutes prior to the lessons
Lessons are available starting early in the morning (6 a.m. ~ 10 a.m.) until late at night ( 6 p.m. ~ 1 a.m.)* Lessons can be taken any time to fit the students' schedule. Free time before work or before bedtime can be utilized for leaning, depending on one's life style. Last-minute requests can also be accommodated when one's schedule opens up unexpectedly. Sankei Online English accepts reservations until 30 minutes prior to the lesson. Even people with irregular schedules can be accommodated flexibly.
*Only evening lessons (6 p.m. ~ 1 a.m.) are available during the pre-opening period. Morning lessons will be available after the grand opening.
3. Only the computer, web camera, and headphones are required. Take lessons in the comfort of your own home or anywhere else.
This learning system utilizes free software Skype. With only a computer, web camera, and headphones, one could learn anywhere.
4. Original, personalized lesson plans
When learning English, it is essential to understand one's own level accurately. It is necessary to know how many hours of learning is required, make realistic plans, and follow through with it. Sankei Online English supports each individual's plans with its systematic curriculum.
5. Excellent lineup of instructors who have cleared five steps of our screening process
The key to fun and proper English learning is the instructors. Sankei Online English only hires instructors who have gone through five steps of the selection process. The selection criteria include, needless to say, English proficiency checked by native speakers, and in addition, conversation skills such as expressions and pronunciation, and teaching skills. Only those who have passed the strict screening could serve as instructors.
Sankei Human Learning hopes to develop, in addition to English instruction service, various services to contribute to improvement of language proficiency, and in the future, we would like to expand our services to include other languages and other educational contents, with the concept "anytime, anywhere, for reasonable rates."
About Sankei Human Learning Co.,Ltd.
Company Name: Sankei Human Learning Co.,Ltd.
Location: Nishi Shinjuku Kimuraya Bldg., 7-5-25 Nishi Shinjuku, Shinjuku-ku, Tokyo, 160-0023 Officer: Teruyuki Kawakami, President
Established: July 24, 2012
Capitol: 100 million Yen
Shareholders: transcosmos inc., Human Holdings Co., Ltd., Sankei Digital Inc.
Business Description: Providing online foreign language instruction service, language school management, coordinating overseas studies
Sankei Human Learning's Mission and Vision
Mission: We would like to provide a safe and pleasant place to learn and teach for those who wish to learn and teach and contribute to creating joy of learning and teaching.
Vision: We create joy to be shared by the whole world. ~Open the world to Japanese people through English~
About Sankei Digital Inc.
Founded in 2005, is a subsidiary of The Sankei Shimbun Inc., publisher of one of nationally circulated newspaper in Japan. Sankei Digital holds the exclusive right to use Sankei Shimbun's contents on the internet and other digital platforms, and is operating all of Sankei branded websites, publishing electronic edition of Sankei's publications, and distributing news to third parties along with other digital-related activities.
About Human Holdings Co., Ltd.
Human Group first got started in 1985 with educational businesses. It has since then acted as a pioneer to respond to the needs of the society and wishes of many people who desire personal growth. It is now a leading company in educational businesses.
About transcosmos inc.
transcosmos launched operations in 1966. Since then it has combined superior "human resources" with the most up-to-date "technological" capabilities to enhance the competitive strength of its corporate clients by providing them with high value added and superior services. It provides overall IT outsourcing services such as Call Center Services, Business Process Outsourcing Services, and Digital Marketing Services either as standalone solution or as combined services to its corporate clients to optimize their marketing efficiencies, to expand sales and gain new customers in EC business, and to reduce clients operational cost. Further, these services have been expanded beyond Japan, globally, centered in Asia. transcosmos aims to be the "Global IT Partner" of its corporate clients to provide them with high quality outsourcing services on a global scale.

The listed company names and product/service names are each company's registered logos or trademarks.
For Media Inquiry:
Sankei Digital Inc. +81- 3-3243-9879
Human Holdings Co., Ltd. +81-3-6388-0108
transcosmos inc., +81-3- 4363-0123