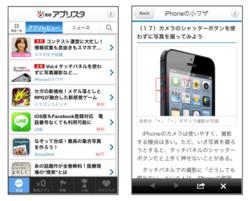 A new medium that makes smartphone application "more enjoyable and more useful"
Tokyo, Japan (PRWEB) December 18, 2012
transcosmos inc.(Headquarters: Tokyo, Japan; President and COO: Masataka Okuda; TSE First Section: 9715) and Sankei Digital inc. (Headquarters: Tokyo, Japan; President: Tetsuji Kondo) have released as of today the new medium "Sankei Aplista" iPhone application, which was unveiled on October 23, 2012. Sankei Digital performs production work and transcosmos performs advertising sales and management.
Sankei Aplista is a new medium that makes the use of applications "more enjoyable and more useful." It was previously released for PC sites and smartphone sites, and an iPhone application has been released today (at no charge). Even with the iPhone version, content is provided including information to resolve trouble and questions about iPhone applications, as well as recent news, reviews and sale information. It is naturally suited for persons who want to know about things like highly popular applications, smartphone tips and tricks, and applications useful for business, but content is also provided for those who just want to pass the time pleasantly.
Sankei Aplista iPhone Application
Compatible OS: iPhone 3GS or later (*iOS 4.3 or later required)
Price: Free of charge
The catchphrase for Sankei Aplista is to "make the smartphone more fun." It makes use easier, even for persons unfamiliar with smartphones, and is also enjoyable for those who want to become more proficient in their use of the product. This is an information service which provides application reviews, feature articles and smartphone related news for those purposes. The editorial department conveys a variety of information, covering celebrities, people involved with smartphones and various localities. Its strength with respect to overseas application conditions is also noteworthy.
Recent Reviews
Complete review of popular apps handpicked every day
Discussing trendy apps of course, as well as apps used for everything from business to passing the time!
News
Including the latest news of course, as well as information like bargain sales all in one scoop!
Special Topics
Full of immediately useful information ranging from interviews with popular personalities to amazing smartphone tips and tricks♪ Also presents information on popular app trends from overseas
Popular
This is interesting! Introduces rankings for free apps recommended by the staff
My List
Saves app review articles of interest to My List
You can view your favorite articles any time
What is Sankei Aplista?
It is a site that takes advantage of the coverage and editing capabilities of the Sankei newspaper group to introduce iPhone, iPad and Android applications.
It will continue to deliver a wide range of information to make smartphones more useful and enjoyable to use, naturally including domestic application reviews, as well as overseas application reviews, celebrity interview features and industry news.  
About Sankei Digital Inc.
The company was established on November 1, 2005. It has taken over the digital business of the Sankei Shimbun Co. (Headquarters: Chiyoda Ward, Tokyo; President: Takamitsu Kumasaka), operating websites for various media of the Sankei newspaper group and delivering news and other contents to portal sites, mobile devices and the like.
About transcosmos Inc.
transcosmos provides overall IT outsourcing services such as Call Center Services, Business Process Outsourcing Services, and Digital Marketing Services either as standalone solution or as combined services to its corporate clients to optimize their marketing efficiencies, to expand sales and gain new customers in EC business, and to reduce clients operational cost. (URL: http://www.trans-cosmos.co.jp/english/)

The listed company names and product/service names are each company's registered logos or trademarks.
Contact for news media inquiries
Inquiries from the media should be forwarded to transcosmos inc.
Public Relations & Advertising Department
Mail: pressroom(at)trans-cosmos(dot)co(dot)jp