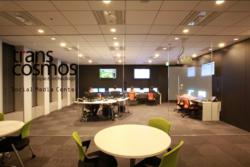 The Marketing Chain Management Company
(PRWEB) March 21, 2012
transcosmos inc. (Headquarters: Shibuya Ward, Tokyo; President and COO: Masataka Okuda; Securities code: 9715; hereafter, transcosmos) has established the Shibuya Social Media Center (hereafter, Shibuya Center), which specializes in social media operations, at its headquarters building and has commenced operations as of today. For client companies utilizing the social media, it will provide general social media operations, including postings to social media, responses to and support for user postings and monitoring of demands, topics and complaints. The center will also consolidate operation know-how tailored for value-added services, such as advertisement planning, surveys and analysis, and will take on the role of overseeing related services offered at other transcosmos centers.
■ Operation know-how provided at client locations and call centers will be consolidated at the Shibuya Center
Since transcosmos started its "Social Media Operation Support Service" in May of 2011, it has been providing services including communication planning, operation, monitoring and analysis in the social media for nearly 50 client companies, based on know-how cultivated in activities such as call center and website operations. Among these, operation services are provided in an on-site configuration resident within client companies and also as contracted services at locations such as transcosmos call centers. However, this new center has been established to consolidate the know-how dispersed throughout the various centers and it will function as a control center for social media related operations.
■Industry-savvy facilitators with specialized skills develop communications with users
Everything from engagement operations to support services are provided for client companies in all fields. This is accomplished by employing call center service department members, who are communication professionals with thorough knowledge of various industries and business categories through support operations for clients, and digital marketing service department members, who are specialized in providing marketing support such as advertisement planning, website strategies and campaign planning. These members take on the role of controlling the flow of conversation as "facilitators" while they increase the brand strength of client companies and perform planning and writing work in order to elicit the necessary information from users.
■ A team response prevents dependence on individual skills. Knowledge acquired at the Shibuya center is shared with centers throughout the country.
With the change to a center based system, it becomes possible to respond through a team approach. In this way, it is possible to prevent dependence on individual skills, which is a problem in social media operations, and it also promotes improvement of facilitator skills through experience with client operations in a wide variety of industries. The knowledge acquired from these operations is then utilized throughout the country at 22 call centers and for on-site operations such as start-up business development support, planning and training. Our goal is to build an operation network on a nationwide scale revolving around the Shibuya Center.
Commencing today, operations for 10 client companies have been consolidated at the Shibuya Social Media Center, and we have started offering operation services ranging from communication planning in the social media to writing, posting representation and analysis. With regard to analysis services, we have instituted a system backed up by more than 200 analysts (*) with proven capabilities in areas including website analysis and VOC analysis. Plans call for the facilitator staff to be expanded to more than 25 persons in FY2012, and the sales target for social media related business is ¥1 billion.
■Reference prices for "social media operation support services" at the "social media center"
•Social media operations (Posting representation, Monitoring) From ¥150,000
•Campaign development & Operation From ¥1,500,000
•Active support From ¥600,000
*About transcosmos inc.
transcosmos launched operations in 1966 as a pioneer in the information processing outsourcing business. Since then it has combined superior "human resources" with the most up-to-date "technological" capabilities to enhance the competitive strength of its corporate clients by providing them with high value added and superior services. It provides overall IT outsourcing services such as call center services, business process outsourcing services, business process solution services, and digital marketing services either as standalone solutions or as combined services to its corporate clients to optimize their marketing efficiencies, to expand sales and gain new customers. Further, these services have been expanded beyond Japan, globally, centered in Asia. transcosmos aims to be the "Global IT Partner" of its corporate clients to provide them with high quality outsourcing services on a global scale. (URL: http://www.trans-cosmos.co.jp)