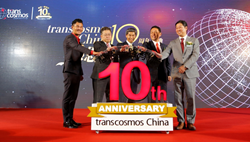 "Taking this opportunity, we would like to express our sincere appreciation for our client companies, and we aim to continue pioneering new ways through growing and advancing together with them." by Eijiro Yamashita, CEO of transcosmos China
Tokyo, Japan (PRWEB) September 09, 2016
Shanghai transcosmos Marketing Services Co., Ltd. (Headquarters: Shanghai, China; CEO: Eijiro Yamashita; hereafter, transcosmos China), a wholly-owned subsidiary of transcosmos inc., held a ceremony to commemorate the 10th anniversary of its foundation on September 8, 2016, in Shanghai.
After opening its first service base in Shanghai in 2006, focusing on contact center business, transcosmos China continued its journey and expanded its business scale. Now, the company operates a total of 7 bases located in 4 cities—3 bases in Shanghai, 2 in Beijing, and 1 in Tianjin and Hefei respectively—providing wide-ranging services with its 3,000 employees for roughly 63 client companies, both Chinese local and foreign capital companies, including Japanese-affiliated.
Eijiro Yamashita, CEO of transcosmos China said:
"It is our great honor to mark this special anniversary. In the past 10 years, we have been providing e-commerce, digital marketing and system development services in addition to the contact center services, developing new services to accomodate the needs of our client companies. We will continue to support our client companies to maximize their sales capability as well as minimize their cost by providing our high-value-added services, commiting to our original belief that only the ones who constantly change to accomodate the client companies' needs can survive in this Chinese market. Taking this opportunity, we would like to express our sincere appreciation for our client companies. We aim to continue pioneering new ways through growing and advancing together with them."

The Photo of 10th Anniversary Ceremony on September 8
From left:
Junxiong Fang, General Manager of Account Service Department, CreditEase
Toshifumi Ninomiya, President Director, Elleair International China (Nantong)
Koji Funatsu, Chairman & CEO, transcosmos
Koichi Iwami, Executive Vice President, transcosmos
Eijiro Yamashita, CEO, transcosmos China
About transcosmos China
transcosmos China launched its business in March 2006, as a call center company, providing services for Chinese market. Since then, the compay has been expanding its service offerings by accomodating the changes in the client companies' needs. Now, the company provides comprehensive outsourcing services that support client companies to achieve both sales expansion and cost reduction. From 2014, the company is doing business as "transcosmos China".
Company Name: Shanghai transcosmos Marketing Service Co., Ltd. (transcosmos China)
Location: 8F Wenxin Plaza, 755 Weihai Road, Jing'an District, Shanghai
President: CEO Eijiro Yamashita
Number of Employees: 3,000 (as of July 2016)
Business: Contact center, e-commerce, digital marketing and system development
Official website: http://www.transcosmos-cn.com
transcosmos is a trademark or registered trademark of transcosmos inc. in Japan and other countries.
Other company names and product or service names used here are trademarks or registered trademarks of respective companies.
About transcosmos inc.
transcosmos launched its operations in 1966. Since then we have combined superior "people" with up-to-date "technology" to enhance the competitive strength of our client companies by providing them with superior and valuable services. transcosmos currently offers Cost Reduction Services (contact center, back-office service for HR/Financial/Sales depts., order management and SCM, system development & operation etc.) and Sales Expansion Services (big data analysis, internet advertising, developing & operating website, smartphone/SNS utilization, telemarketing etc.). transcosmos continues to pursue Operational Excellence by providing these services through our 162 locations in 28 countries with a focus in Asia. Furthermore, following the expansion of e-commerce market on the global scale, transcosmos provides a comprehensive One-Stop Global E-Commerce Services to deliver our clients companies' excellent products and services to consumers in 45 countries around the globe. transcosmos aims to be the "Global BPO Partner" of our client companies, providing them with high quality BPO services on a global scale.