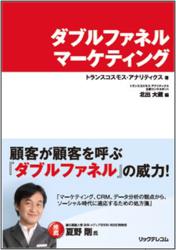 "Prescription" to adapt to the Social-Media Era from the Viewpoint of Marketing, CRM, and Data Analysis
Tokyo, Japan (PRWEB) October 23, 2012
transcosmos inc. (Headquarters: Tokyo, Japan; President and COO: Masataka Okuda; TSE First Section: 9715; hereafter, transcosmos) and its subsidiary transcosmos analytics Inc. (Headquarters: Tokyo, Japan, President & CEO: Yoichi Kawano; hereinafter, transcosmos analytics), which launched operations in August 2012, are pleased to announce publication of "Double-Funnel Marketing" (Publisher: Ric Telecom Inc.; Regular price: 1,680 Yen).
About the Book
Due to the recent expansion of the social media, influence of the "word-of-mouth" power has significantly increased. And as a result, the main player of the consumer communication has switched from the corporations to the "individuals." In the midst of such a "social era," "double funnel marketing" is the comprehensive marketing strategy to adopt to the changes in the market environment. It gives a boost to the product/brand recognition, order rate, and retention rate by sharing and spreading the existing customers' preferences and positive experiences to the new customers through "word-of-mouth."
The key to success of the "double funnel marketing" lies in the corporations' "data governance" ability. In order to collect, analyze, and utilize the AOC and VOC data and to circulate the PDCA cycle, it is essential to develop data scientists to promote such activities and to utilize KPO (Knowledge Process Outsourcing) for more efficient scientific work.
This book introduces marketing and CRM strategies for such a new era, and the theory and its implementation of the data analysis is explained, along with the case studies both in Japan and other countries. The book is a collection of the systemized know-how in maximizing the client asset values and customers' positive experiences.
Suited for:
Managers; those employed in areas of business to plan and implement business strategies to increase sales -- such as: business planning, marketing, sales planning, sales promotion, PR, advertising, EC, sales -- and all those who are involved in interacting and communicating between corporate clients and their customers -- such as: CRM, CS promotion, call centers, web design, social media management departments -- can benefit from this book.
Double Funnel Marketing
Publication Date: October 31, 2012
Author: transcosmos analytics Inc.
Price: 1,680 Yen (tax included)
Publisher: Ric Telecom Inc.
To order or for more information: http://www.ric.co.jp/book/contents/book_910.html
Available at bookstores all over Japan
Table of contents:
Part I: Consumer communication in the social media era
Part II: Theory and implementation of Double-Funnel Marketing
Part III: Data Governance for Big Data Analysis
transcosmos analytics became independent from transcosmos in May 2012 and fully launched operations in August 2012. It began its research and analytics services ten years ago, and since then, transcosmos analytics has been expanding its area of businesses to accommodate the changes of the times and diversification of the communication process, handling marketing research, text mining, VOC analysis (voices of call center customers), website analysis, and social media analysis. In the future, transcosmos analytics will strive to accelerate research and development and human resource development in order to stay atop of the ever-progressing era and also aim at materializing the "double funnel marketing" in cooperation with call center and digital marketing services provided by transcosmos
About transcosmos analytics Inc.
transcosmos analytics was established as a 100% subsidiary of transcosmos in May 2012. It is a KPO (Knowledge Process Outsourcing) corporation capable of accommodating the rapidly-changing market environment flexibly and speedily to realize client corporations' sales increase and to maximize customer satisfaction. Knowledge Process Outsourcing (KPO) is a business model for acceleration and efficiency of client corporations' intellectual productivity and for creation of new values, bringing together expertise and technology such as marketing research, data analysis, operational knowledge, and data base technology. With "Aiming at an ever higher level ~ Analysis for the Knowledge + Synthesis for the Action ~" as a slogan, we will strive to expand our business operations in Japan and Asia as a KPO expert.

transcosmos analytics is a registered trade name or trademark of transcosmos analytics inc. in Japan and other countries.
transcosmos is a registered trade name or trademark of transcosmos inc. in Japan and other countries.
Other company names and product or service names mentioned are registered trade names or trademarks of various other companies.
About transcosmos inc.
transcosmos launched operations in 1966 as a pioneer in the information processing outsourcing business. Since then it has combined superior "human resources" with the most up-to-date "technological" capabilities to enhance the competitive strength of its corporate clients by providing them with high value added and superior services. It provides overall IT outsourcing services such as call center services, business process outsourcing services, business process solution services, and digital marketing services either as standalone solutions or as combined services to its corporate clients to optimize their marketing efficiencies, to expand sales and gain new customers in e-commerce or online business. Further, these services have been expanded beyond Japan, globally, centered in Asia. transcosmos aims to be the "Global IT Partner" of its corporate clients to provide them with high quality outsourcing services on a global scale.