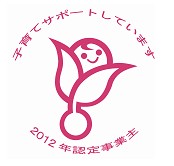 The Marketing Chain Management Company
(PRWEB) July 12, 2012
transcosmos CRM Okinawa, Inc. (Headquarters: Okinawa-shi, Okinawa-ken; President and CEO: Kenji Matsubara; hereinafter "CRM Okinawa") , a 100% subsidiary of transcosmos inc., (Headquarters: Shibuya-ku, Tokyo; President and COO: Masataka Okuda; Securities Code: 9715; hereinafter "transcosmos") and which mainly conducts call center services in Okinawa Prefecture, was recognized by the Okinawa Labour Bureau on May 29, 2012, as the "Excellent Equal Opportunity/Work and Family-Life Balance Company" and received a certification logo (nickname: "Kurumin Mark"). CRM Okinawa is the ninth company to receive this recognition.
Law for Measures to Support the Development of the Next Generation was established in order to promote an environment where all children of the next generation are born and grow up healthy. The Ministry of Health, Labour and Welfare drew up General Employer Action Plan based on the Law and has been recognizing corporations which meet certain criteria such as accomplishing the goals spelled out by the Action Plan as "Companies Supporting Parenting" since 2007. The criteria for recognition set forth by the Ministry of Health, Labour and Welfare include: "Is the company making active efforts to support parenting?" "Is the company implementing various measures to support families to balance their work and personal lives?" The recognition is made if these requirements are fulfilled. For those companies which have been recognized, a certification logo called "Kurumin Mark" is presented.
Things CRM Okinawa accomplished by implementing Law for Measures to Support the Development of the Next Generation
1. Encouraging fathers to take child care leaves
2. Securing substitutes/temporary employees and reviewing work situations and systems during child care leaves
3. Shorter working hours
4. Building and operating on-site child care facilities which the employees can utilize
5. Measures to reduce overtime work
CRM Okinawa currently runs 4 operation sites within Okinawa Prefecture, providing call center services with a total of 3,400 work stations. At "MCM Center Naha," established in March 2006, a child care center is provided for the employees, helping them balance their work and personal lives, and the Center was certified by the Prefecture in February 2011 as a "Work Life Balance" corporation. transcosmos and CRM Okinawa will continue to strive for providing the work environment which enables each employee to continue to work with a sense of joy and accomplishment and make efforts on promoting diversity

transcosmos is a registered trade name or trademark of transcosmos inc. in Japan and other countries.
Other company names and product or service names mentioned are registered trade names or trademarks of various other companies.
(About transcosmos inc.)
transcosmos launched operations in 1966 as a pioneer in the information processing outsourcing business. Since then it has combined superior "human resources" with the most up-to-date "technological" capabilities to enhance the competitive strength of its corporate clients by providing them with high value added and superior services. It provides overall IT outsourcing services such as call center services, business process outsourcing services, business process solution services, and digital marketing services either as standalone solutions or as combined services to its corporate clients to optimize their marketing efficiencies, to expand sales and gain new customers. Further, these services have been expanded beyond Japan, globally, centered in Asia. transcosmos aims to be the "Global IT Partner" of its corporate clients to provide them with high quality outsourcing services on a global scale. (URL: http://www.trans-cosmos.co.jp)