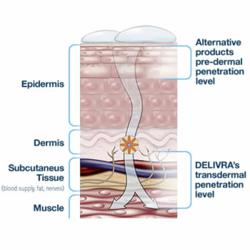 ...we do not rely on the counter-irritating effects of menthol and methyl salicylate to deliver relief.
Burlington, Ontario, Canada (PRWEB) October 03, 2012
Delivra™, the Canadian-based manufacturer and market leader in transdermal delivery technology, responds to recent concerns that topical pain relief creams can cause serious burns. Recently warnings and concerns have been raised about over-the-counter pain relief creams containing counter-irritant ingredients menthol and methyl salicylate as concerning.
Delivra's flagship product, LivRelief topical pain relief cream, is unique among topical pain relief creams as it does not rely upon menthol and methyl salicylate to deliver pain relief, unlike many of its counterparts. Using delivra's patented delivery system, LivRelief delivers natural ingredients without synthetic parabens, glycol, propylene and other harsh and smelly chemicals.
"We showed in our Canadian clinical trials that we deliver pain relief through the dermis layer of the skin six times more effectively than comparable products," explains delivra President Dr. Joe Gabriele. "Because of this, we do not rely on the counter-irritating effects of menthol and methyl salicylate to deliver relief."
When LivRelief is applied to the skin, the delivra base intercalates with the skin, becoming one with the skin and opening pores. This provides a pathway for the relieving agents to pass through the various layers of skin to reach the "dermis" or muscle area, providing relief at the source of the pain or inflammation. At the same time, the delivra transdermal delivery base creates pathways to deliver natural, active ingredients such as rutin that can block five major pain pathways.
Prior to the invention of delivra, OTC therapeutic creams did not use a delivery system to transport medicinals and why there were not so effective. Delivra contains anti-microbials to prevent environmental insults such as toxins and unwanted airborne microbes to enter the body. This anti-microbial innovation is not offered in competing OTC topicals.
"OTC that use menthol and methyl salicylate is problematic," commented Dr. Gabriele. "We invented delivra in order to be able to more effectively penetrate natural ingredients beneath the skin, something which was previously considered impossible. We do this using ingredients that do not cause irritation and additional distress."
About Delivra™
Headed by Dr. Joseph Gabriele, Delivra Inc. is comprised of a team of innovative scientists and medical professionals who have come together to develop natural, safe and effective medications, using a revolutionary new delivery system, Delivra™. Delivra™ is a patented, proprietary organic compound discovered by Dr. Gabriele that harnesses the body's own processes to ensure a greater depth of penetration in transporting healing substances. Delivra™ can be used to safely and effectively deliver a wide range of medications directly through the skin.
Media Contacts:
Canada
DDB
Sharon Hayword
416 972 5844
USA
Cranberry
David A McInnis
360 483 8441