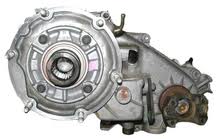 Transfer cases help regulate the gearing that is used when this function is enabled on vehicles.
Chicago, Illinois (PRWEB) February 18, 2013
4x4 vehicles use certain parts that are not found inside of passenger cars or sedans. The transfer case assembly is an important part of the drive train for four-wheel drive vehicles. The TransferCasesforSale.com company is now providing transfer case inspections before customer shipment. These inspections are a last line of defense for used or rebuilt units. A problem or other issue can be resolved easily with these new inspections. More information about these inspections can be found online at transfercasesforsale.com.
Modern automakers like Ford, Chevrolet, Jeep and Dodge all rely on four-wheel drive options for buyers to increase annual sales. SUVs and pickup trucks represent some of the most in demand vehicles sold each year. A large percentage of these vehicles are now 4x4 or all-wheel drive configurations.
Transfer cases help regulate the gearing that is used when this function is enabled on vehicles. The fluid that is contained inside the assembly must be changed at certain intervals to ensure proper protection.
The early breakdown of these case assemblies can be caused by leaking fluid or other issues found during inspection. The TransferCasesforSale.com company now tests its used and rebuilt units with fluid to ensure proper operation and calibration is present.
These tests are performed before shipment to customers and fluid is drained upon completion. It is these tests that can help customers receive the highest value and long-term use available for a 4x4 case assembly. These tests are applied to all inventory currently in stock at no extra charge to customers.
As part of the new series of tests, refurbished units that are now supplied by the company go through rounds of spin testing and other measurements. The reconditioning of the case usually involves removal and installation of new gears, couplers and other internal parts. Spin testing is one method now used to prove accuracy after each build is completed.
These tests bring back the value and reliability in preowned units that is only found in new editions. The news release for the integration for the new spin testing program can be found online at http://www.prweb.com/releases/rebuilt-transfer-cases-/now-spin-tested-for-sale/prweb10146998.htm.
About Transfer Cases for Sale
The Transfer Cases for Sale company is one of the largest providers to the auto industry and general public for four-wheel drive case assemblies. Hundreds of units are in stock in the company warehouse that are shipped inside the U.S. to provide the most distribution options to customers. Low pricing is one strategy used by this company to reach more buyers and provide more value at lower cost. The Transfer Cases for Sale company supplies warranty protection for all units that are shipped to offer the long-term value customers expect when purchasing preowned or refurbished units from dealers.