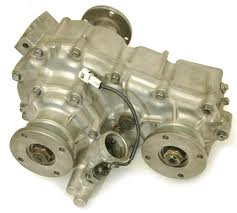 The TransferCasesforSale.com company is one of few dealers online that sell rebuilt units that are built to OEM factory standards.
San Francisco, California (PRWEB) December 26, 2012
The TransferCasesforSale.com company announces the sale online of transfer cases for Toyota vehicles. This new company upgrade is designed to help pickup truck and SUV owners that replace case assemblies in used vehicles. The new inventory includes used units that are inspected before sale and ones that are internally rebuilt to offer variety for customers. More information can be found online at http://www.transfercasesforsale.com/toyota-tacoma-transfer-case.
Toyota manufactures 4x4 vehicles and is one of the largest automakers in the world apart from Ford and Chevrolet. The lineup of SUVs and pickup trucks that are offered are in addition to the passenger cars and sedans that are sold worldwide.
The all-wheel and four-wheel drive systems depend on a working case assembly to engage these systems properly. The TransferCasesforSale.com company is one of few dealers online that sell rebuilt units that are built to OEM factory standards.
Warranties are not standard in the used parts industry although some sellers are able to extend coverage. One of the reasons that protection is not offered after sale is because of the high mileage that can be put on parts and components. The stress from constant operation can cause delicate parts to fail without warning. The internal gearing that is used in drive train unit assemblies is often the first point of damage in used units.
The used units that are now in stock receive inspections upon acquisition and again before sale is made. The alignment of the gears and other components are visually inspected. This process is one way that is now used to help assure customers that purchase these assemblies online. A parts warranty is now applied to each shipped unit to offer an extension of the parts warranty.
Additional incentives are now offered for online and online purchases to go with the new inventory additions. A no cost shipping offer is now applicable to in stock units that are shipped in the U.S. excluding Hawaii and Alaska. This effort was tested during the fall months and has been extended to help more customers save money on freight costs.
The news release for this announcement can be found at http://www.prweb.com/releases/used-ford-transfer-cases/for-sale-shipped-free/prweb9837656.htm.
About Transfer Cases for Sale Company
The Transfer Cases for Sale Company has sold its line of used and rebuilt assemblies for decades offline. The 2009 launch of the company website helped to introduce more automotive industry buyers to the company inventory. Over 36 months of innovations has helped this company to expand into most states in the U.S. and low pricing efforts are now underway. The Transfer Cases for Sale Company provides parts warranties for all items that are ordered to help provide an extra level of protection for customers. The online quotation system now in place has helped more people obtain pricing after business hours.